People and events
View(s):

Annual ACWBC Avurudu Pola

The All Ceylon Women's Buddhist Congress is organising the annual New Year Pola to be held on Saturday, March 30 from 9 a.m. to 5 p.m. at the Congress premises at 400, Bauddhaloka Mawatha, Colombo 7. This is a fund-raiser for several charity projects the ACWBC has been running for many years such as Elders' Home, Hospice and special facilities for Differently Abled Young Women as well as for the maintenance and re-construction of the Headquarters buildings.

Well-wishers are requested to donate funds or goods of any kind to be sold at the Pola. The first prize of the Raffle which will be drawn on the same day is an air ticket with the compliments of Mihin Lanka. All are welcome.

New surgical intensive care unit at National Cancer Institute

A new surgical intensive care unit that was completed under the initiative of the Colours of Courage Trust was declared open by Health Minister Maithripala Sirisena last Wednesday.

The Trust was established in 2008 with the aim of addressing the needs of the National Cancer Institute, Maharagama. The new surgical unit was named the "R. Senathi Rajah Surgical Intensive Care Unit" after the Trust's first Chairman, the late R. Senathi Rajah, a former senior partner of the law firm Julius and Creasy. The new facility was constructed at the cost of over Rs. 22 million. The HNB"s Sustainability Fund contributed Rs 10 million towards the project.

The Trust has to date completed the development of a medical intensive care unit at the Cancer hospital with an investment of over Rs 55 million. The "Trail- A Journey by the Living. For Life" launched in 2011 saw more than 30,000 Lankans taking part in a 670 kilometre walk across the country from Dondra Head to Point Pedro. This project raised Rs. 220 million towards the construction of a Cancer Unit in Jaffna.

COMSAA elects new president

Dr J. B. Peiris was elected the President of the Colombo Medical School Alumni Association (COMSAA), University of Colombo. The members of the Executive Committee are: President elect – Prof Lalitha Mendis; Vice Presidents – Dr. Dennis Aloysius, Dr. Sarath Gamini de Silva & Prof. Ravindra Fernando; Co-Secretaries – Dr. Piyusha Atapattu & Dr. Deepa Wimalasena; Treasurer – Prof. Jennifer Perera; Assistant Treasurer – Dr. Romaine Perera; Editor – Dr. B.J.C. Perera; Assistant Editor – Dr. Chandra Jayasuriya; Social Secretary – Dr. Saroja Siriwardene; Immediate Past President – Prof. A.H. Sheriffdeen; Dean, Faculty of Medicine, Colombo – Prof. Rohan Jayasekara; and committee members – Prof. Athula Kaluarachchi, Dr. K. Rajendra, Dr. Lakshman Abeyagunawardene Prof. Saman Gunathilaka, Dr. G. Shanthilal de Silva, Dr. Champa Nelson, Dr. Philip Veerasingam Dr. Shiranee Goonawardena, Dr. Nanda Amarasekera & Dr. Nipun Silva

GOD TV co-founder visits Colombo 

GOD TV co-founder Rory Alec visited Sri Lanka last month. His trip was aimed at planning a major series of broadcasts in Colombo.  GOD TV is an international faith based television network that was founded in 1995 and has been freely available in Sri Lanka since 2002. GOD TV aired its first live event from Sri Lanka in 2012 and is planning another set of global broadcasts for 2013- the GOD TV Colombo Summer Festival featuring world renowned Christian leaders.

"We count it a privilege to serve the people of this country by inspiring viewers through our 24 hour schedule," said Mr. Alec. "We are also pleased to support the churches in the nation as Christians from different denominations unite for our Colombo Summer Festival, and to share this extraordinary experience with our viewers worldwide. The Festival will be broadcast from Colombo to 24 countries," he said

"The word of Jesus was the word of peace. His way was love. The most important thing we need to tell the public is that GOD TV is not about a religion. We do not talk about a religion. We talk about a person."

In addition to increasing its programming recorded in Sri Lanka, GOD TV will also consider additional ways of using the network's global resources to further support childcare and other rehabilitation initiatives.

Six old Mahindians to be felicitated

The annual event organised by the Colombo Branch of the Old Boys Association (OBA) of Mahinda College, Galle to felicitate old Mahindians who have rendered an enormous service to the country and the college will be held today, March 3 at 8.45 a.m. at the auditorium of the Colombo Museum.

Six old Mahindians, Minister of Investment Promotion Lakshman Yapa Abeywardena, author of 'Mahinde Thamai Iskole' and editor of Sunday Lakbima, Sundara Nihathamni De Mel, National Hospital Director, Dr. Anil Jasinghe, Director of Singer Company PLC, Kumara Samarasinghe, Major General Lasantha Wickramasuriya of the Sri Lanka Army and Director General of the Department of Meteorology, Sunil Kariyawasam will be felicitated at the ceremony.

Training course for carers 

NGO Forum on Ageing (NFOA) will be conducting a 10 – day non residential Training Programme for Care givers (persons who look after older persons) from March 11-22 at Mallika Nivasa, Vishaka Road Colombo 4. The programme is conducted by a former Nursing Director, Ministry of Health.

Participants of either sex above 18 years who have sat for GCE O/L will be eligible to apply. For details please contact 2790147/0784930225/2716485.

Annual Rotary Club 'Sunshine Games' 

The Rotary Club of Colombo Metropolitan's annual Sunshine Games will be held this year on March 10 at the Shalika Grounds, Colombo 5 from 8 a.m onwards.  The Rotary Club has conducted this "Athletic Championships" for differently abled children since 1998. "The Sunshine Games" is so named as it brightens up the lives of over 1,000 differently abled children between the ages of 8 to 18 from a wide range of schools and institutions across the island. The participating children suffer either physical or mental disability, and in some cases, sadly a combination of both.

The Club makes it a fun day for them by organising various other activities in addition to the track and field events. All the participants and support staff are provided with event t'shirts, caps, breakfast, lunch, refreshments and tea. A semi carnival atmosphere is created with a merry go round, mini train, bouncers, face painters, balloon vendors and a papare band. The Rotary Club of Colombo Metropolitan hosts the entire day's programme in addition to covering part of their transportation cost.
There are 110 events in all. These events are categorised by age and type of physical or mental disability. The games are conducted on a professional platform meeting international guidelines for such a competition under the supervision of the Athletic Association of Sri Lanka. Winners are awarded medals and certificates, in a podium finish to the sounds of the bugle.

The main sponsors this year are: Coca Cola Beverages Sri Lanka Ltd, Epic Garments, Hilton Colombo, Hilton Residencies, Hirdramani Group, Pan Asia Bank and Jafferjee Brothers.

Heritage City of Anuradhapura"

"The World Heritage City of Anuradhapura", a slide lecture by Desamanya – Vidya Jyothi Ashley de Vos will be held at the Indian Cultural Centre, Colombo 7 on Friday, March 8 at 6 p.m. The talk will cover an introduction to the evolution of the city from its beginnings in 500 BC to its destruction in 10 C ADE including a re-creation of an important element in the 8 C ADE.

Ashley de Vos is a Fellow of the Sri Lanka Institute of Architects and a Member of the Royal Institute of British Architects. He has trained as a Chartered Architect (UK), Landscape Architect (UK) and in Architectural Conservation and Heritage Management (Rome, Italy).

He was the National Chairman of the International Council on Monuments and Sites from 1990-93. From 1980 to 1989 he served as Director Conservation on the Jetavana Project, Anuradhapura, and the UNESCO/Sri Lanka Cultural Triangle Programme. He is a Member of the Advisory Board to the Department of Archaeology, (1986 todate), and a faculty member in various architectural institutions in Sri Lanka. He is an external examiner to the Faculty of Architecture, Landscape Architecture, Design & Conservation.

All are welcome. For further details please contact the Indian Cultural Centre on tel: 2684698 or email: iccrcolombo @gmail.com.

Sophisticated street food

Smriti Daniel samples the delights at Nihonbashi's 'yakitori garden'

In Darshan Munidasa's yakitori garden, the sauce has been 18 years in the brewing. As the coals splutter, heating the grill, Darshan tells us that jaggery, apple and honey go into the signature recipe and traditionally the pot is never allowed to empty – instead every cupful that is taken out is painstakingly replaced. Incidentally, the green and yellow fronds of bamboo rustling above us are also 18 years old. They were planted when Darshan first opened Nihonbashi and are a marker of the restaurant's age and success.

For Darshan, his narrow little yakitori grill is a statement – his intent is to teach people to recognize and love yakitori. (Never call it a satay or a kebab in his hearing. He compares the hypothetical insult to an Indian chef's naans being referred to as bread.) The word yakitori literarily translates into grilled fowl and the little 'garden' wing doesn't shy away from serving authentic delicacies, some of which are parts of a chicken I have never put in my mouth before.

The Momo Niku, a luscious piece of grilled thigh meat, lightly charred at its edges, is an easy favourite. I conclude though that my first mouth of Bonjiri or tail is likely to be my last. The plump little triangles also dubbed 'the bishops nose' come in a pocket of skin and have a firmer nub at the centre. There's Torikawa, the fatty, melt in your mouth skin on a skewer and Sunagimo or gizzard which has a taut almost bouncy texture. Tori-Reba or liver is soft and creamy in comparison while Nankotsu which goes crunch in your mouth, is a strip of grilled chicken still on the cartilage. Teba is the piece of wing, Hatsu is the heart cleaned and laid open on a skewer and the Tsukune or minced chicken balls are punctuated by pieces of onions. There are also salt grilled prawns still in their shells.

Guests are offered an option of having their yakitori with shio (salt and lemon juice) or tare (sauce) and Darshan says he has seen Japanese customers spend a minute contemplating which they prefer. He recommends the chicken heart, the soft bone or the cartilage and the gizzard be taken with shio and the others with tare. To get his flavours right, Darshan says he's had to pay attention to the details – for instance they use the much denser form of white coal (which takes its name from its colour when heated) and never pour fuel onto the grill, instead placing the coals on a stove to get them burning.
While serving great street food with a sophisticated twist is Darshan's USP, his yakitori garden distinguishes itself in part on the décor. He torched many of the individual planks that make up pine wood walls himself, applying his sashimi torch to create a nice, charred pattern. Guests are served on granite countertops or polished cement tables. While Darshan's yakitori garden might be at the mercy of the weather, it's also a peaceful little nook and a welcome addition to the city's culinary offerings.
Prices range from between Rs.180 to Rs.680 (for the river prawns) per skewer. To celebrate their opening, go between 6 – 8 p.m. to enjoy 50% off on your yakitori. Reservations are recommended. Call on 011-232-3847.
Seva Vanitha Unit donates refrigerator to Police Hospital
The Police Seva Vanitha Unit donated a refrigerator to the Police Hospital recently. The donation was sponsored by Singer Sri Lanka. It was handed over to the Chief Medical Officer of the hospital Dr. Rohitha Fernando by  Kumari Fernando, wife of DIG Roshan Fernando. Senior Distribution Manager of Singer Sri Lanka Ltd Ananda Perera, HR manager (Regnis Lanka), Neminda Karunaratne and Marketing Manager Dhammika Wijesundera were present.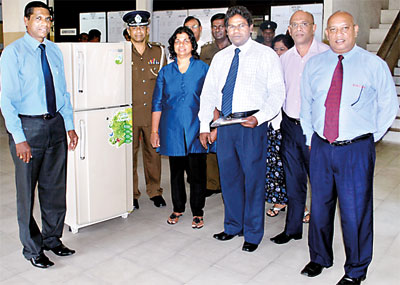 Follow @timesonlinelk
comments powered by

Disqus