Getting the message when they are young
View(s):

International Women's Day falls on March 8 | Inner Wheel clubs and the National Child Protection Authority hold a series of awareness workshops for schoolchildren on   sexual abuse

By Tharooshie Mahahewage

The Inner Wheel Club of District 322 (Sri Lanka) Colombo is reaching out to the people who matter in their latest project-schoolchildren. The programme aims to create awareness in the girl child to protect her from being sexually abused.  The Inner Wheel officials are working in tandem with the National Child Protection Authority in this effort- they requested the NCPA to provide professionals/ experts in the field to be resource persons and to conduct this programme. The N.C.P.A. has formulated a programme to provide age-appropriate sex education to girls, to create awareness of a girl's right to protect her body and inform her of the help and advice that is available and how it can be obtained.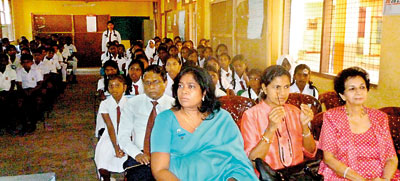 Last Friday, February 22, they conducted a seminar at Nugegoda Tamil Vidyalaya, a mixed school with around 300 students, mainly girls. This is the fourth among the 22 schools their 22 clubs are hoping to cover for the project.  The guest speaker was Wasantha Pathirana who had been a counsellor with the National Child Protection Authority and is currently a lecturer at the Sri Lanka Foundation Institute.
"Today's news in the print and electronic media reveals the shocking and unimaginable sexual violations being committed against the innocent girl child," said tInner Wheel's District Chairman, Joan Jayamanne. "Society is shocked by such crimes and feels sorry for these innocent child victims; we blame the offender and the system but nothing else. These little victims have to cope with physiological trauma, shock and social stigma."
"There are students who complain of certain things. We were told of a little boy who kept complaining about a pain in his genitals. It transpired that he comes to school every day with his uncle who used to grope the little boy. When he complained to his mother, no action was taken. Child abuse is very much a home issue that needs to be properly dealt with," said Mrs. Jayamanne.
Even though they emphasise more on the girl child, they agreed that even little boys are also subject to sexual harassment. The reason they have chosen to focus on the girl child specifically is they feel the trauma, stigma and risk is greater for a girl.
"As a women's organisation, we have serious concerns relating to such unabated crimes being perpetrated on the innocent girl child in our country. These crimes take place even in her own home, committed by her own kith and kin. We cannot be complacent. We feel we have a duty to safeguard the girl child – the future mother," the District Chairman said.
"This is the reason why we have planned and are presently conducting awareness programmes in schools to enable the girl child to be better informed to handle situations, in order to protect herself and thus prevent her falling victim to such crimes," said President of the Inner Wheel Club Colombo, Evangeline Jesuthasan. "We want to do an additional programme in Jaffna because in my visit there last week I heard many stories of things happening. The problem we are facing right now is that we don't have an Inner Wheel or a NCPA branch there. But we are somehow planning on conducting a seminar there," she added.
Inner Wheel is one of the largest international women's voluntary service organisations in the world and has as its objectives, Friendship and Service. Originally established for the wives of Rotarians, Inner Wheel though still working hand in hand with the Rotary Club, accepts outside membership and holds NGO status in the United Nations Organization. It's spread over 130 countries with over 100,000 members. Inner Wheel District 322 (Sri Lanka) comprises of 22 districts around the island.
Follow @timesonlinelk
comments powered by

Disqus