Vivid portrayal of a lost world
View(s):

By Nalini MacIntyre

'The Yaal Players – Memories of Old Jaffna' by Vimala Ganeshananthan

This charming ramble down memory lane is based on the written recollections of the author's mother, Emily Gnanam, born in Jaffna around 1903, the fifth in a family of seven. Emily Gnanam's recollections of life in Jaffna in the early 20th century were hand-written in a few exercise books and her daughter Vimala Ganeshananthan (VG) used these as the nucleus of 'The Yaal Players' (the title deriving from 'yaal' a stringed musical instrument which gave Jaffna its Tamil name). VG has interspersed her mother's writings with her own commentary on relevant historical and political events.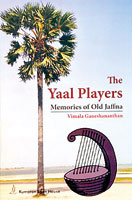 Emily's grandfather was a towering presence in her childhood exerting a profound influence on her education and upbringing, more so than her parents probably because her father worked in Malaya and visited only occasionally – a common practice among Jaffna men of working age at the time. A vivid picture emerges of contemporary daily life and social customs in the peninsula. Memories of school are juxtaposed with the rituals of arranged marriages, celebration of local festivals and family tales. We see the complicated interaction between various members of the extended family which constituted the family's social life. Readers who knew the 'old Jaffna' will be overcome with nostalgia as long-forgotten memories there are suddenly aroused by the book .
Emily effectively expresses what she remembers, and comes across as keenly observant, intelligent and literate in describing many fascinating details of daily life including: caste barriers, diet, medication, farming, the operation of well sweeps, toddy tapping, travel in bullock carts, live fences, central courtyards, sleeping arrangements, wedding feasts, and so on. The picture that emerges is valuable as Emily's Jaffna no longer exists.
Emily's father had been one of the first converts to Christianity. Consequently, the church had a pivotal role in the life of their family and missionaries were influential in all aspects of life. Most marriages were arranged with the bride having no say in the matter, and we are given details of the obligatory clothes for a bride and the traditional jewellery passed from mother to daughter. Emily lived in Jaffna until she married and went to live in Trincomalee in the east.
Separation from Jaffna possibly made Emily dwell longingly on the past. At the end of the book when Emily has outlived her contemporaries, she says she is 'left with memories that become sharper with time' (p349) and 'I long to go to Jaffna' (p336). VG says that Emily 'loved to talk of her teenage years in school; memories flitted across the years with no sequence'. This timeless element is reflected in the book as there is no chronological sequence of events, the author deliberately retaining the narrative sequence of Emily's random writings, though the historical details inserted by VG remind us of time.
VG is to be congratulated on her initiative in preserving her mother's memories with the addition of relevant historical details. Although these details have been painstakingly collected giving the book another dimension, I felt that the delicate balance between Emily's narrative and VG's relevant background material was not always maintained and that the loose structure could have been tightened with expert editorial assistance.
The book with its varied illustrations is both informative and engrossing, and is a delightful blend of memories, social customs, history, legend and stories of a tightly knit family. It brings to life a lost world with an amazing wealth of detail which should reward the reader.
Follow @timesonlinelk
comments powered by

Disqus