Letters to the editor
View(s):

Pensioners won't be around for the next election 

Scores of letters have appeared in all the newspapers – English, Sinhala and Tamil – begging the Government to implement recommendations to increase the pensions of pensioners who retired before 2006.  It is not my intention here to criticise the politicians who pamper themselves with luxuries using tax-payers' money. This letter is to remind President Mahinda Rajapaksa, who hosted pensioners at a lavish tamasha at Temple Trees before the Presidential Election.

Mr. President, you gave us pensioners a solemn promise that you would implement the recommendations, saying they were reasonable and worthy. At that gathering, the Secretary to the Treasury and the Central Bank Governor consented to carry out your instructions. But today we remain disillusioned and disappointed, after giving you our vote to become President.

We pensioners are a dying breed. Every day one of us passes away. Some have crossed over to the land of no return because they could not buy the necessary medicines and pay hospital bills with the miserly pension they receive.

Perhaps it is a blessing in disguise for the Government that many pensioners are no more, and the State does not have pay their pensions any more. By the time of the next Presidential election, we remaining pensioners may not be around, should you decide to contest for a third time.

M.G. Tissera, Peliyagoda

Is the voice of the common man being heard?

In this on-going debate of the past few weeks, both sides of the argument are being dealt with. Between the Monks and the Jamiyaathul Ullama, accusations are flying high and low, but where is the voice of the COMMON SRI LANKAN MUSLIM MAN?  He is the man who has lived in this country for hundreds of years, enjoyed religious freedom in this beautiful country like no other place on Earth, eaten and drunk from this land, rubbed shoulders with and shared his watalappan with his Sinhalese and Tamil brothers and sisters!

And in all these years did he not eat and drink without this "Halal Certification" that has sprung up in just the past few years? Yes he did! Did he not use his common sense to find for himself what was right for him and what was not? Yes, he did. Did he ask for money to be collected in the name of religion and products to be stamped with the Halal logo? No, he did not!

I write to you so that the voice of the common man is heard. I speak on behalf of him, because I am born and bred a Sri Lankan, and a Muslim. I have a duty to my country. My country was torn and ravaged by war for decades. Only now when it has started its path towards healing, why in the name of religion are we trying to bring about separation?

Why cannot the Ullama simply circulate a list of what is appropriate annually, without the "debated" logo?Do not forget my brothers and sisters, this country is like no other, its people are the warmest. Why cannot we, come to a compromise with our brothers? In the bigger picture, it is not we Sinhalese, it is

not we Tamils, it is not we Muslims; IT IS WE,SRI LANKANS.

Sumaiya Nazir, Via email

Let the people decide

The government has taken the right decision regarding the issuance of Halal certificates. That is not to get involved. Let the people decide what they would like to eat.
Similarly could we give the same freedom on such other matters as well if we are to call ourselves a true multi -ethnic society. We close liquor shops on Poya days and some other religious days. Supermarkets don't sell meat on Poya days. Cinemas are closed on Poya days. Is it fair to deprive a certain segment of the society to please another segment?

Certainly not. Let us keep our liquor shops, cinemas and meat stalls open on all days and allow the people to decide what they prefer. The people are educated enough to decide for themselves I believe.

 A.G. Weerasinghe, Gangodawila

Buses use Queen's Road as shortcut

As far as I know, Queen's Road, Colombo 3, off Duplication Road, is not on the public bus route, but No. 154 buses from Angulana are using it as a convenient shortcut to Thurstan Road and the university bus halt. The authorised route for the No. 154 is through Bagatelle Road, from the Galle Road, onto Duplication Road, turning left off at the Bullers Road-HSBC junction and proceeding past Thumul Handhiya to Thurstan Road.

I take this bus once a week, and on more than five occasions the bus driver took this shortcut in order to beat the others who take the normal route. Are Queen's Road residents aware of smoke-belching buses using this once exclusive and private road? A branch of the Wycherly International School is also on this road. My observations have been between 8.30 and 9.30 am – the morning peak hour.

Over to you, Traffic Police. Nab them in mufti.

Valerie Y. Davidson, Mount Lavinia

No special wards for Buddhist monks

It is natural for people to fall sick. No one is exempt from sickness. Even Buddhist monks fall sick. It is sad to see Buddhist monks warded with the other patients. Should we not give Buddhist monks special treatment? Do they not deserve a separate ward to themselves?

During a recent visit to the Karapitiya Hospital in Galle I noticed that there was no separate ward for monks. I presume it is the same in most hospitals in this country. When Buddhist monks are warded with the others, does this not affect their religious observances?

We have a separate department for Buddhist Affairs, and a number of monks of high status to represent the Provinces. However, when these high-status monks are hospitalised, they go to private hospitals, where their privacy and identity are well protected.

K. K. Kulatilaka, Elpitiya

City bursting at the seams with hawkers' stalls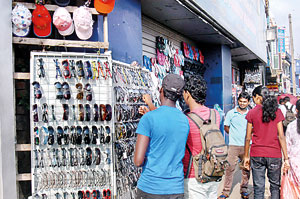 Manning Market, the old vegetable and fruit market in the Pettah, is to be moved to Peliyagoda and a modern bus station and shopping complex is to come up on the vacated premises. It was reported that 1,000 spaces will be reserved for hawkers to sell their goods.
Hawkers are notorious for selling short-weight goods and sub-standard food. The late President Ranasinghe Premadasa allowed thousands of hawkers to set up shop in the Pettah and the Fort. They were allowed to use the pavements to put up their stalls. These stalls force Citizen Perera to walk, at great personal risk, on the road and not on the pavement.
Whenever a traditional market or shopping venue is dismantled and developed, the hawkers or vendors rent out the new shop spaces given by the Government and set up their own business nearby.
Look at Pettah: Hawkers have taken over the bus shelters outside Manning Market and built small shops along Olcott Mawatha. It is strange that the authorities have turned a blind eye to this.
Tilak Fernando, Wellawatte
Follow @timesonlinelk
comments powered by

Disqus