Want to be a national star? Get your KPI right
View(s):

We must put our jigsaw together, says head of coaching

For most Sri Lankans, cricket is something just more than a sport. Besides the fraction who makes a living out of it, there are millions of Lankans who think about the game, smile when the country's score reads 150 for no loss and frown when the team scorecard is 100 for 8. In short they live cricket and it is definitely a way of life in this country of many talents.

At the same time, the Lankan cricket is stuttering to make the changes and make the game compatible to the calls of international cricket. At the same time people who are very much embedded in the game keep asking questions. Some ask why we can't produce bowlers to match international standards after Murali and Vaas. Others ask what's going to happen to our cricket after Mahela Jayawardena, Kumar Sangakkara, T.M. Dilshan and Thilan Samaraweera decide to call it a day.

There is a certain section of people who also ask why there is such a huge gap between the current local domestic cricket and International cricket. It was only last week that Sidath Wettimuny drew a gloomy picture talking about the flaws in our coaching methods. He says these flaws are affecting the emerging cricketers once they reach international boundaries.

At this we thought, we cannot take these questions to a mundane person who would not be up to date with the developments or the drawbacks in the game in today's context in the country. It has to be a person who is neck deep in this quagmire and a person who knows how to struggle his way out of it along with the rest of Lanka's cricket.

A person who perambulates to the R. Premadasa stadium to wave the Lankan flag at a match may not know that there is a facility in the rear that contains Sri Lanka's chains and cogwheels that churn out and polish our cricketers for international assignments at all levels. The facility belongs to the national coaching department of Sri Lanka Cricket. Unlike many other facilities here, one finds this key centre is manned by professionals who are apt in the game and work within their boundaries trying to inculcate the fine technicalities to cricketers once they are recognised by the system.

Lanky former fast bowler Jerome Jayaratne heads this institution and he is a person who understands the intricacies of his department's performances and how much Sri Lanka's cricket depends upon it.

The Sunday Musings chose him to put across the above mentioned questions that people keep asking. We also asked him to comment on the forgettable performance of the Sri Lanka 'A' team in their last venture into the Southern part of Africa where they got thrashed by both South Africa and Zimbabwe. Even when the England 'A' came over to the island the results were not so encouraging.

Speaking about the aging team, Jayaratne said our system had made the initial mistake by letting about the half of the side grow to their mid-thirties without blooding young cricketers to grow among them. He said:"I do not agree that we are running short of talent.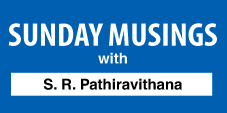 In Sri Lanka people are so close to the game of cricket that they take to it only second to nature. We have the talent. But when you see out of the new three stars that we have – Dinesh Chandimal, Lahiru Thirimanne and Dimuth Karunaratne — they are good. Chandimal has scored all over the world including twin fifties against South Africa in South Africa in the game we beat them. Thirimanne was among the runs when the selectors gave him the chance in the middle when Kumar Sangakkara was injured. However, I feel that they are not given enough exposure. They must be given exposure at least when it comes to a time where Sri Lanka is taking on a weaker opponent. They must be experienced enough in international cricket when the day comes that they have to get into Jayawardena, Sangakkara and Dilshan boots.
"Remember our domestic structure is not professional enough. There is a huge gap between our domestic cricket and international cricket. Even when you take the county cricket in England or the state cricket in either Australia or South Africa, their standards are much higher than ours. We have to bridge that gap between our domestic cricket and international cricket. In our case we have to be cautious and make sure that we look at the national team carefully when it comes to the blooding of these young cricketers, taking these age factors into consideration. Their experience comes with the exposure that they get in the middle."
Jayaratne was of the view that the young bunch should be exposed and given the opportunities more regularly even at the cost of a senior being rested in a match.
The head of Lanka's coaching department pointed out that there were no World Cup tournaments in the horizon. He said this was the best time that Sri Lanka could start the transformation. For example he said that Australia — a team which had been almost invincible for more than a decade and a half had to make changes and right now their batting had become vulnerable and they had started losing matches.
"Yet, they know what they are doing in this transition period. They could have given former skipper Rickey Ponting a huge farewell on his home grounds in Tasmania. They were taking on Sri Lanka – a team which has never beaten them in a Test match in their own backyard. But, they have their policies and Ponting was out of the Sri Lanka series".
Then taking the A Team's losses in Zimbabwe and the way the establishment was moving, Jayaratne said that they were on the verge of introducing a system where accountability would prevail. From 2013 coaches and players would be accountable for their actions. However this system would not be applicable to the national team and their management who would be engaged constantly, Jayaratne said.
Firstly, he said there would be a manageable number of players in the second tier. They would be given over into teams of coaches who would be looking after different segments of their cricketing aspects. There would be coaches for fast bowling, spin bowling, fielding, batting, physiotherapy and training. These coaches will be given the players to handle. The programmes that moot can progress cohesively, but, the coaches would be responsible for player performance which would be scientifically monitored. At the same time the player also would be responsible for maintaining his peak standards. This would be indicated in Key Performance Indicators –KPIs. How talented a player may be, he would not be recommended for a contract until he gets his KPIs to acceptable levels.
Another area of much concern is the domestic competitions and especially the local wickets. He said one aspect that the authorities must be looking in earnest was the Sri Lankan wickets which did not encourage quality cricket. "As a result we do not produce cricketers of quality. For instance, Shaminda Eranga is representing the country as a fast bowler. But, just look how many overs that he has bowled in domestic cricket. Our wickets are not conducive to that type of bowling. The result is when they have to bowl 20-25 overs a day in a Test match, they tend to break down."
He reiterated that Lanka was not short of talent. "There are a few brave decisions that we must take. They are not huge changes, but good policy decisions. We must have something like a national cricket policy and work towards standardising the wickets and the domestic cricket structure. If these changes are done our national cricket would go up a few notches even without us not realising that it has taken place."
Follow @timesonlinelk
comments powered by

Disqus