New PM and Chief Justice likely to emerge in 2013, BT-RCB poll shows
View(s):

16 % unsure whether  'world would end'  (in line with Mayan calendar)

A new Prime Minister and a new Chief Justice is what most Sri Lankans believe would happen next year, according to a poll undertaken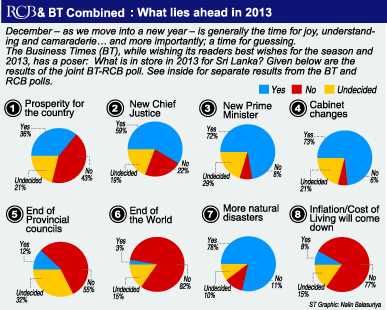 jointly this week by the Business Times (BT) and Research Consultancy Bureau (RCB).
The BT-RCB survey posed eight questions to email and street respondents, totalling close to 1000. One question in particular drew an interesting response.
Asked whether the 'End of the World' would occur (according to the widely-spoken-of Doomsday Mayan calendar), 80 per cent said NO. However 15.1 per cent said they were 'Unsure (or Undecided)" whether it would happen or not. The street poll was conducted in Nugegoda and Kohuwela by RCB.
Sri Lankans, at the end of December, love to forecast the future and what is in store for the coming year – it's a favourite past-time. It was in this context that the BT-RCB poll sought answers on whether there would be prosperity for the country; whether there would be a new Chief Justice; whether or not there would be a new Prime Minister; Cabinet changes; end of Provincial Councils; end of the World; more natural disasters and whether inflation/cost of living would come down.
When asked whether there would be prosperity in the country, results from the combined poll showed 43.4 per cent of the respondents saying NO while 35.7 per cent said YES.
Some 58.6 per cent said YES to the emergence of a new Chief Justice while 72.2 per cent said the ailing D.M. Jayaratne would be replaced as Prime Minister. Over 70 per cent of the respondents said they expected cabinet changes to occur while 55 per cent said the Provincial Councils' system, which several government ministers want to be scrap, will continue. Some 78 per cent said there would be more natural disasters in 2013 while 76 per cent said NO when asked whether inflation/cost of living will come down.
In the comments received, one respondent said the government was 'bent' on circumventing the Supreme Court ruling and push through the Divi Neguma bill.
"None of the Constitutional changes are for the benefit of the people…they are for near-term political gain. If not, why can't we abolish the Executive Presidency and find a solution to the National Question of minorities living in harmony with the majority?" he asked.
Follow @timesonlinelk
comments powered by

Disqus