Sailors conquer horizon
View(s):

National Sailing Championships 2012

By Naushad Amit

Sri Lanka Navy personnel conquered the sea waters outside Panadura Fisheries Harbour as they took major honours during the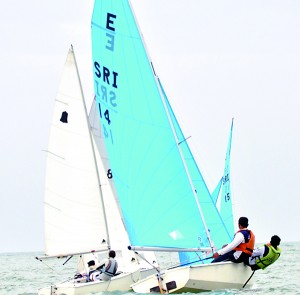 National Sailing Championships which was held on December 15 and 16. The Sri Lanka Sailing championship which reached the sea waters for the first time this year since its inauguration in 1980 had new items other than its usual list of events, windsurfing being one of them.
The rough wind condition was a huge challenge to all participants alike on the opening day but seasoned campaigners from Navy put their experience at work to dominate the two-day event. However conditions were perfect as competitors came out with their potential on the second and final day despite slight changes during the latter part of the day.
The Sailors swept the windsurfing event which will be an annual item from this year, with the Gunawardenes, Chameera and Priyantha finishing as champion and runner-up respectively. Fellow team mate Pathum Nishantha finished third. Navy continued their dominance in the Enterprise Class event with J.M.P.L. Jayasuriya and A.P.S.K. Soysa emerging as champions. K.V.N. Dimal and C.K. Senaratne finished at second place with J.H.T.C. Appuhamy and K.C. Soysa, both pairs from Navy, completing at third.
The pairing of W.A.R. Nishantha and N.G.M.U. Gunawardene of Navy went on to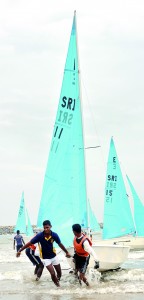 clinch the GP 14 event while Dimithri Goonawardena and R.P.I. Pushpakumara of Ceylon Motor Yacht Club emerged as runners-up. Navy's W.M.C. Marambe and B.M.M. Bandara finished at third place.
The Sailors also went on to dominate the Laser Radial and Laser Standard events. P.D.D.S. Rajapakse won the Laser Radial event while team mate E.B.H.A. Eranga
followed to win the second slot as K.W.G.S. Bandara won the Laser Standard event. Dinouk Goonewardene of The British School in Colombo went on to win the Laser 4.7 event as Joshua Jayaratne of Colombo International School won the Optimist event quite comprehensively. Jeremy de Mel of Lyceum International Wattala finished as runner-up in the Optimist event with Akhil Jayawardena of The British School in Colombo finishing third.
Despite perfect conditions on the closing day the sailors' skills were put to test with many competitors facing sturdy challenge as the day progressed. With the wind strength gusting to 15-20 knots and the rolling waves which reached up to nine feet of height as some boats capsized. Apart from the official events jet skiers and kite surfers entertained the spectators with exhibition performances before the closing ceremony of the event. The competition organised by the Yachting Association of Sri Lanka with the assistance of Sri Lanka Navy.
Follow @timesonlinelk
comments powered by

Disqus