Tennis player development
View(s):

Integrated systems for player development have greater advantages, fun and success rate than linear systems. Linear method goes from aspect to aspect. "Development Phase" in a player is too short for it to succeed. Fun and Success rate are two of the key ingredients for anyone to learn fast. Integrated systems have both.

Go for a "PARTNER SPORT"
Tennis does not stand alone in the sports world. Having a 'partner sport' is a good integration factor to improve Tennis ability.
To acquire the understanding of sport, it is necessary to see, experience and sense "reactions". Simply said we learn by doing; Kinesthetic experience. When Tennis is not possible, one of the partner sports will contribute to achieve this. Tennis has the reputation of being one of the 5 difficult sporting disciplines.

Hockey, Badminton, Squash with their equipment handling requirement and Football, basketball, Athletics, swimming and cycling with their physical requirements are considered best partner sports for Tennis.

In the early development, a player with one season/term of full time Tennis and another with 50/50 of the partner sport, will see greater fun, motivation and success. With our weather patterns in our island, Tennis is not always possible.

In 2007 Tennis could not be played in a Club in Colombo for 127 days, due to rain. Even if a player has committed for a full year of Tennis to an institution, only 8 months will be registered in attendance. School exams, health, holidays and travel also need to be accounted for. During such breaks one of the "partner sports" would be an ideal substitute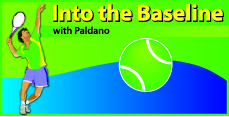 The development path selection in the beginner stages will be players themselves and parents. Take this lead of "partner sport" into your thinking. Partner sport will also address the high "drop out" rate of Tennis. Schools with seasonal calendar automatically have partner sports incorporated. Europe uses Partner sport principle with great success.
Open & Closed situations
As players, we train and learn from a teacher or coach and play matches. Training and learning are "closed" situations. These closed situations are engineered for teaching and training conveniences with preset patterns. Matches are "open" situations without preset patterns. Players must be taken out of close situation training in every session. Every session must end with open situation workouts. If not, the players match playing ability suffers.
Open is integrated; Tennis is an easy game made difficult by an opponent. This is what a match is. Matches integrated with stroke making, tactics and physical needs. A player will know nothing of what is coming next. Good development strategy will have 4/5 of the time in "open situation" and 1/5 of the time in "closed situation".
The Universal Approach
Playing games is also an integrated system for faster development. It is also fun. The exposure to open situation from day one of development is called "Universal approach". This emphasis is to make the mind and body evolve and it is in every international Tennis teaching certification program now.
Form Follows Function
Until 1921 players had to have the correct style to play Wimbledon; many good players were sent out.
Today most effective way to learn is "form follows function" methodology and use technique only as guide. Our body type and physical development vary. Many believe the Original swing will take a player further than the corrected version. This integrated Game based learning method also addresses limitations of language, sport vocabulary and application issues. It has its own motivation – to win. There are many teaching progressions to start playing games from day one on the court, encouraging "form" to develop according to the player's choice of "function".
Balls & Rackets
There has been a radical change in Tennis equipment. Tennis balls are up to 6 times heavier than the ones used in the sixties. [This really surprised me] How come we still find it easy? Racquet making technology is the answer. Have you heard of anyone wih "Tennis elbow" recently? New materials used in the racquet technology absorb so much of the shock from the impact and eliminating the bad effects.
Why are balls 6 times heavier? It is to slow down the game on the synthetic courts. This is the reason why we do not see that many playing the "net game". Passing shot is easy with slow balls.
Tennis rallies got so short and resulted in drop in spectator interest. So they slowed the game making the ball heavier and now they are working on making the court slower. We still go to net using different methods.
We got our Tennis from England. British Lawns was busy with Sir Leonard's round of Archery in the 18th century and then went to Croquet. In the late 19th century it was replaced by Tennis. This happened because "Dunlop" revealed the Vulcanizing process. This many Tennis balls would be a "dream" if not for Dunlop's rubber fusion technology.
First mention of "Tennis" in English literature is by Shakespeare.
King Henry was once presented with a Tennis ball. That is how precious a Tennis ball was, at the time. Fit for a King!
Our record on the famous English Lawns
Wimbledon – Douglas Fonseka and Douglas Scharnival, the two Ceylonese who played Wimbledon main rounds in Doubles. Mrs. Sriya Munasinghe [Gooneratne] played ladies open singles qualification rounds. Also a few of our juniors have graced Junior Wimbledon.3rd Generation Player
There are many 2nd and 3rd generation Tennis players still active. Rajiv Rajapakse our Davis cup player is a 3rd generation player. His grandfather was Eric Rajapakse and Rohan Rajapakse was his father.
georgepaldano@yahoo.com
Follow @timesonlinelk
comments powered by

Disqus