Keheliya-cut case of law unto themselves
View(s):

My Dear Keheliya,

I thought I must write to you when I heard you saying this week that Parliament was not bound by decisions taken by the highest courts. At first, I was confused, but then I realised what a genius you are and that is why I am writing to congratulate you.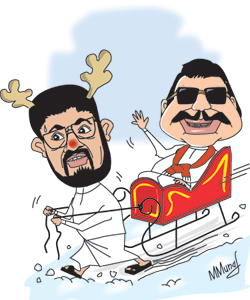 You know, Keheliya, for long years, we were made to respect the rule of law and constantly reminded that if we did something wrong, we would be hauled up before the courts and be punished for our offence. I guess we were wrong all along.
Now I realise that Parliament was indeed not bound by decisions taken by the courts and that is what has been happening all these years. However, being the simpletons that we are, we didn't know that and it has taken a genius like you to explain it to us. Thank you, Keheliya!
Of course, the evidence was before us all this time. For example, why didn't anything happen when young Duminda was accused of being involved in the murder of Bharatha Lakshman? And why didn't anything happen when old Mervyn tied a public officer to a tree?
And now, Keheliya, you have told us why: because, as you explained, Parliament can simply do what they want and no-one can question them! And who are we, mere citizens of this country, to question our elected representatives?
Now, I am not blaming you for this, but I think you forgot to mention a tiny detail in this new law of yours: not only does this apply to Members of Parliament, it applies to their family members as well.
I suppose that is why nothing happened when Mervyn's son was hauled up before the courts for allegedly assaulting an Army Officer. Well, it is not quite correct to say that nothing happened because the Army Officer was subsequently punished!
And you must also know about this aspect of the law because there was a time when your own son was accused of some wrongdoing at his school. Now, while his mates were punished for the offence, he got away scot free, didn't he?
Of course rumour has it that the Principal of that much-respected school insisted on giving the same punishment to your son as well but a few discreet telephone calls to him that discussed the mysteries of life after death helped sort things out!
However, it did surprise us at first, Keheliya to find you advising us on the salient points of law and on how justice should be dispensed. And that is not because you are not a lawyer but a hotelier by trade either.
Why it surprised us was because when you started your political career you had us convinced that you were one of those people who stood up against authoritarianism instead of being a spineless Yes Man-which is why you joined Lalith and Gamini twenty years ago.
But we do appreciate, Keheliya, that being a cabinet minister is more important than fighting for principles or ideals-especially when, as a minister, you can enjoy privileges like influencing a cricket career and at a diplomatic mission.
My suggestion to you, Keheliya, is to take your policy of Parliament not being bound by the decisions of the higher courts one step further. After all, if you don't abide by the verdicts of these courts, why have them at all?
Just imagine the vast amounts of money we could save by getting rid of these courts. And you wouldn't have to spend on employing these judges either. What you could do is to appoint Members of Parliament to do the job of the judges!
You could get Mervyn, Dilan and Wimal to hear the less important cases. I am sure they will do a great job by dispensing justice at express speed. And appearing before them and being at the receiving end of their vocabulary will be enough of a punishment for most!
For the more important cases we can have people like Yapa and Rajitha presiding. Yapa now has the experience of chairing the country's most famous trial and Rajitha has enough experience in doing things that leave us with gaping mouths and in pain.
Of course, as Chief Justice there can be no better person than Chamal Maama. Why, everyone is talking about avoiding a conflict between the Executive and the Legislature and what better way to do it than keeping it all in the family?
If all this is done, just imagine, Keheliya, how peaceful our country would be? There will be no protests by lawyers outside Hulftsdorp, no need for so many countless debates about the impeachment-and no need to organize people to shoot at Wijeyadasa's house either!
You should seriously think about your policy, Keheliya and convince Mahinda Maama to do the needful. Of course, knowing him, he might turn around and say that there is no need adopt that policy because justice is being dispensed in that way anyway!
Yours truly,
Punchi Putha
PS-The last time someone in your cabinet said that they wouldn't respect the decisions of the higher courts was when SB said so-and he had to pay for it spending a couple of years in jail. I guess, for us, the moral of the story is that we can only spot an ass when he starts braying!
Follow @timesonlinelk
comments powered by

Disqus