Goodbye home: Why I left my career in Sri Lanka
View(s):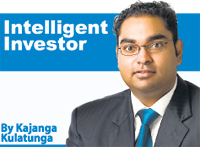 Whistle-stop tours are never great for contemplation.  A recent trip back home provided a feeler on what both managers and workers are feeling about life.  Some issues just don't seem to go away.  Managers complained at length about the "lack of skills" and workers about the "lack of proper pay and opportunities".  I thought it best to undertake some basic surveys from former workers to test the hypothesis that we are facing a "skills crisis". Given the demographic changes set to unfold over the next decade companies will need to pay special attention to attitudes of workers.  Failure to understand these dynamics will lead to a higher cost base for most companies, thus lowering their enterprise value and by extension the share price (for public quoted companies).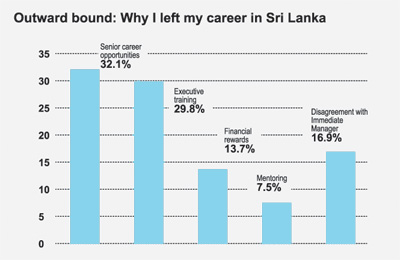 The exodus of young talent over the last three decades has been a painful experience for the country as a whole and businesses in particular.  Myths abound as to what drove many to seek fortunes elsewhere.  The survey conducted in conjunction with the CSD Institute, Australia was concluded in the third week of August.  The results should matter not only to managers, but also stock analysts who want to understand the internal growth dynamics of large companies.
The survey selected a group of Sri Lankans who were aged between 24 and 40, who have left the country either temporarily or permanently from 1998 through to 2010.  Fifty-five per cent of the respondents were male while the remaining 45 per cent were female.  All the participants are in full-time white collar employment.  Fifty per cent had studied for a bachelor's degree or higher overseas.  Thirty per cent had graduated from a local university. All held at least one professional qualification or a bachelor's degree. The median work tenure of the respondents in Sri Lanka was four years and five months.  Forty- five per cent worked in public-listed companies while the remainder in privately-held firms.
The survey focussed explicitly on those who claimed to have moved predominantly for career related issues.  The survey excluded responses from those who cited personal, family or other "non career" reasons as the primary driver for relocation.  Salient aspects of the survey were illuminating.  Surprisingly, "financial rewards" which many assume would be the primary reason to seek fortunes overseas came in fourth.  The main motive appears to be "lack of senior career opportunities".  The graph shows the full distribution of responses.
The results are telling on the lack of leadership skills at senior management levels.  It also goes to prove that nepotism is alive and well in corporate Sri Lanka.  Senaka (name changed on request), now a senior Financial Controller for a large US conglomerate, put it bluntly, "what was the point in me putting any extra effort when I wasn't given any equity in the business and the owner was rotating all the top positions around his cousins, nephews and in-laws?"
Family-dominated businesses are a headache at the best of times.  Being a small place, everyone in Sri Lanka is connected to everyone else.  Not only does an outsider feel intimidated, but they are less likely to be creative as they see no net benefit for themselves.   As an investor, I would thus want to get at least a 15 per cent discount for idiosyncratic "family risk".
Lack of executive level training was the second oft cited reason for many to leave Sri Lankan employers.  Most simply don't spend on upskilling employees, and those that do seem to spend it on wrong providers.  Mugunan, the Director of Asia Pacific Sale for an IT company, explained; "After complaining for two years, they sent me off to a sales course.  The facilitator knew nothing about sales, talked 95 per cent of the time, and had no impact on the bottom line.  The guy couldn't sell chocolates to a kid".  On first pass the "skills crisis" appears to be yet another loud whinge by weak senior managers who lack creativity.
Worker dissatisfaction is also showing human resources and development departments in very low light. For too long we have developed a corporate leadership culture akin to "I'm your boss and master, you are my servant". That would have worked wonders during the colonial period, but not in 2012.  From the work I've done in analysing both public and private companies (be it buy-outs or venture capital), a "command and control" leadership culture has resulted in negative returns to investors.
Senior managers should aspire to become mentors and take up coaching and training roles without leaving it to an underpaid HR junkie. External trainers should be vetted for their own personal achievements.The survey presents a dilemma for analysts given the large scale dominance of businesses by a handful of family interests. Will family businesses perpetually underperform as they fail to incentivise enterprising people? Will a simple equity partnership lead to a better outcome for shareholders? India has recently experimented by diversifying family interests away from some of the largest conglomerates. Perhaps that experiment may provide a guiding light.  The results in South Korea, which went down a similar path, are mixed. The most equitable solution is to provide clarity, training and guidance to your best staff.  Few in the corporate world want to adopt seemingly obvious strategies.
What we have is no "skills crisis".  It's a leadership crisis. If workers are struggling to get their fair due, perhaps the analyst community can actually do some good and punish the company.  Unfortunately, some problems require harsh medicine.
(Kajanga is an Investment Specialist based in Sydney, Australia.  You can write to him at kajangak@gmail.com).
Follow @timesonlinelk
comments powered by

Disqus