The final whistle is about to be blown for the year 2009. Let us look back at the year that is fast coming to an end. As much as when a spectator is at a match: the question is will he or won't he. You can see it in the faces as the kicker comes to take a shot at goal. The question now is whether the annual general meeting will be held or not.

With the IRB wanting an elected body in place or else the possibility looms of being cut off from the rugby community; it seems there will be an elected body in place. It was to be in January 2010 and now it is to be in February as there is a need to avoid the period of elections that are at national level. If the AGM is held, under what constitution will it be held?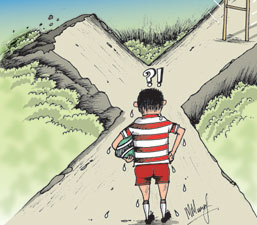 There are rumblings among the constituent bodies that the constitution sent to the AG includes amendments to what was passed at the last SGM. Is this to be another issue that will keep the interim body going on for another period? Does it matter if there is recognition from the IRB? They all probably form part of an International conspiracy: a good theory if you have little else to fall back.

The good news that can be added to the basket of 2009 is that ARFU has decided on Sri Lanka as the venue for the next Junior Asian Rugby event. The interim body has since taking over office ensured that the Club Championship as well as Schools Rugby has been played.
When there was a degree of uncertainty of the schools competition being played the Union stepped in and took in charge. That can be taken into the basket of good things that the Interim Body has done in 2009. Add to the basket the Carlton Sevens, the club league and the knock out tournaments including the sevens and proceed to the checkout counter. On the way you may pick up the participation and keeping afloat in the Asian five nation's series division ii tournament. That is all that you may find in the basket of goodies for 2009.

We saw Royal come out on top in the schools league while S. Thomas' took the knock-out trophy. Trinity, Isipathana and Kingswood were others that provided the excitement while St. Peters who did not do very well during the year came back to redeem lost prestige as they took the Cup at the Carlton Sevens. The Carlton Sevens itself was a window of opportunity with some teams from better known sevens countries taking part while the Asian Series Sevens was played.

In the club season it was Kandy who dominated once again. CR being the second best as has been in the recent past. One also saw the emergence of Navy as a third force who were able to beat both CR and Kandy In the second round.

Yet many believe that rugby in Sri Lanka for 2009 has assumed a virtual 'no go' situation. Most do think the present scenario probably satisfies the ego of some. But it serves very little to improve the game.
On another window we see the non availability of funding putting a stop to provincial development which has its implication on the feeder line.

That is a simple way of thinking of the fallen provincial development. Look at the bigger picture and the associated intrigue. Is there a subtle attempt in working towards a natural stop to the provinces having a vote? No funding, No matches. No matches no tournaments. Not tournaments no votes. If you have no matches and no tournaments how can you say there were clubs?

Another issue of 2009 that will have an impact on the future is the insecure relationship that exists between the interim and the blind men: The referees. Just at this moment some are happy that the referees have been taken under control as some want to believe. At the tail end of the season one can afford to go on as there are few matches with also rans being in charge of the whistle. When it comes to the season with many matches and there is some stiff competition will the little elves be able to manage the big games. The other issue that I see is that the continued bashing will have its implications in the management and control of the game.

* Vimal Perera is a former Rugby Referee, Coach and Accredited Referees Evaluator IRB