SAM Loxton can't see the length of a cricket pitch these days and gets around the surrounds of his Gold Coast home on a motorised scooter, but his powers of recollection are razor sharp.
His powerful jaw is as firmly set as ever, and the once gruff exterior has mellowed with the passage of 88 years.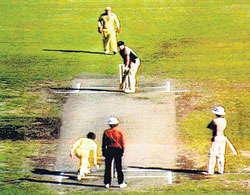 The Trevor Chappell delivery that upset Sam Loxton.
But the ready laugh belies an ongoing irritant: one of Australia's most remarkable all-round sportsmen continues to be saddened by some in sport either behaving badly, or playing outside the spirit of the game.
Loxton and Neil Harvey - both among the few surviving members of Don Bradman's 1948 "Invincibles" - have long been at the forefront condemning boorish or unsportsmanlike-like behaviour on the field.
But now, for the first time, Loxton has elaborated on his well-publicised position after the infamous underarm bowling incident at the MCG on February 1, 1981, that sullied Australian cricket.

As the only national selector on duty at the 'G that day, Loxton was widely quoted as seeing the action of Trevor Chappell, on the direction of his brother and captain, Greg, as a ''betrayal'' of cricket.

The reports said that after the ball had been delivered underarm to New Zealand No. 10 batsman Brian McKechnie to prevent any chance of a Kiwi victory, Loxton had gone to the players' room, grabbed the skipper by the shoulder and told him: ''You might have won the match, but you've lost a lot of friends.'' Another report said he had sat on the steps in one room and cried.

All this was only partly right, yet also substantially incorrect because the full context has never been explained. Until now.

But first, a little background on Loxton, whose credentials in sport are hard to match.
Not only was he a member of the ''Invincibles'', the greatest Australian cricket team, the hard-hitting batsman and fast-medium bowler played 12 Tests and captained Victoria for a season during his 140 Sheffield Shield games.

His top first-class score of 232 not out was on debut for Victoria against Queensland, and he retains the distinction of being the only cricketer to have scored a first-class century (111 not out against South Australia in January 1956) while serving as parliamentarian.

The previous year he had been elected MLC for Prahran in Sir Henry Bolte's government, and then served as government whip for 21 of his 24 years in Spring Street.

And, like his fellow ''Invincible'', Keith Miller, he also played 41 games for St Kilda between 1942 and '46, sometimes interchanging with Miller on the forward line, from where he kicked 114 goals.
Along with Bob Parish, also of Prahran, he was a Victorian delegate on the Australian Cricket Board, manager of the Australian team that toured India and Pakistan in 1959-60, and a long-serving national selector.

But back to the MCG on February 1, 1981. Loxton recalled that with five or six overs to go in the match, he went down to the Victorian Cricket Association rooms in the old Ponsford stand where he told the association's secretary, Ken Jacobs, ''We'll be right [in the match]'' and uttered ''a throwaway line nobody ever thought would happen: 'Lillee will bowl underarm'.''

''A little later the phone on the wall rang, and I answered with my usual joke, 'Kelly's wood yard'. By this stage the ball had rolled down the pitch, and the booming voice on the other end said: 'Never mind Kelly's wood yard, you get down there and give that fellow [Greg Chappell] the greatest hiding he's ever had'.''
It was Phil Ridings, the chairman, and he was besides himself.

''I stood up next to my friend, Bob Parish, and he asked me, 'Did you have a hand in this?'
''I replied, 'I should punch you in the nose [for even asking such a thing]'.

''Billy Snedden, the then former leader of the Liberal Party, was also standing there with us, and I turned to him and said, 'I'm a great believer in two heads are better than one; what would you say to him [Chappell]?'
''After a moment he replied: 'Greg, you might have won the match but you've lost a lot of friends'.
''I got downstairs but there was no Greg Chappell. He was talking with the press. Some of the players had their heads in their hands. The masseur was at work.

''I waited until Greg came in and I went up to him and repeated Billy Snedden's words to him. Then I turned and walked away. That's all I said to him.

''I left the ground and drove back to Red Hill, on the Mornington Peninsula, where I lived. I was teary all the way. I wasn't proud. It was a very sad occasion.

''There was a sequel to this,'' Loxton said. ''There's no doubt they [the Chappells] had done the wrong thing. At the next meeting of the VCA, Bob Parish said that he would be moving at the next meeting of the Australian Cricket Board of Control that underarm bowling be banned.

''But I immediately opposed such a move, saying that there were already so many notes to the laws, and that anyway, someone might come along [in the future] who can legitimately bowl both overarm and underarm.''

The key for Loxton was the definition of ''legitimate'' underarm bowling as he had been involved in an international game where it had been used.

Again, using his great recall, he said: ''I went to India on an MCC tour in 1950 with Ben Barnett, Bradman's keeper.

''Our team manager was George Duckworth, and we had players such as West Indians Frank Worrell and Sonny Ramadhin [who was replaced by Victorian Jack Iverson], and England's Raman Subba Row and Peter Loader, who now lives in Perth.

''We were playing a 'Test' on coir matting at Eden Gardens in Calcutta and it was the last day and the last batsman was in.

I used to field at silly mid-on with only a box for protection; no shin guards and helmets in those days!
''Iverson was something of a showman, a freak. The batsman couldn't hit the ball.'' (Iverson, who played five Tests for Australia, had been a fast bowler from Geelong who turned to bowling spin with a unique ''bent finger'' grip.)

''Then I bowled an over, and Iverson came on for the last.
''I was crouching in position when I heard him say, ''Mr Umpire, I propose to bowl right-arm, over the wicket, underarm.

''I was so taken I stood there watching him come in with his normal run-up; he released the ball underarm into the air and it had loop.

''The batsman hit it in the middle of the bat and the ball hit my hand and in reflex, I caught it and put it in my pocket.''

And therin lay his objection when Parish wanted the underarm delivery banned. ''Trevor Chappell had rolled his underarm delivery along the ground, like a lawn bowl,'' Loxton said.

''Someone should have told him that if he was going to deliver it underarm, he should land it at least halfway up the pitch. It should have been given loop. Shane Warne would have been able to deliver a proper underarm ball, but now we'll never know.''

Gerry Carman, The Age's obituaries editor, wrote on sport in the early 1980s.
|
E-mail
|
views[

1

]