Professional sport is often full of scandals and drama and, in 2009, rugby was certainly no exception. The rugby365.com team was there covering them all and now picks out the five biggest scandals of the past 12 months.

While 2009 has been a year full of amazing rugby action on the pitch it was off the pitch where the sport really grabbed the headlines.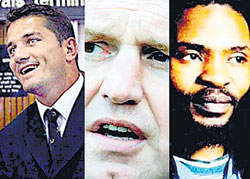 Pick a scandal... any scandal... Which was the worst of 2009?
Scandals, unfortunately, have become part and parcel of the professional game. Players and coaches, more than ever, are celebrities and influential characters around the globe who simply cannot afford to slip up.

But they inevitably do? and some of them in catastrophic fashion!

rugby365 looks back at the Five Big scandals of 2009:

'Joost-gate': Legendary Springboks scrumhalf Joost van der Westuizen has long been considered one of the golden boys of SA Rugby. Married to a local celebrity, Amor Vittone, the former Bulls No.9 has enjoyed a high-profile media career in recent years and has remained an influential figure in the community.
2009 though saw rumours start to fly and before we knew it ideas of affairs and drugs were doing the rounds. Of course he denied it all at first but eventually, coinciding with the release of his autobiography, the truth came out - sparking one of the most dramatic falls from grace in South African sporting history.
'Blood-gate': The arrival of legendary England No.8 and Leicester Tigers head coach Dean Richards at Harlequins a couple of seasons ago sparked a fantastic revival for the Premiership club.

Building a strong squad around the likes of Nick Easter, Danny Care and Will Skinner, Richards took Quins back into the Premiership and put them back on the European map - leading them to the Heineken Cup quarterfinals in the 2008/09 season.

The pressure to perform though ultimately proved too much. Up against Leinster in the final eight Richards orchestrated a fake-blood substitution late in the game in order to get, the already replaced, Nick Evans back onto the pitch.

Tom Williams, biting down on a blood capsule, was escorted from the pitch and, in the changeroom, then asked the team doctor make a cut inside his mouth in order to cover up the incident. A long series of investigations followed with the final result seeing Richards banned for three years, Williams for four-months and physio Steph Brennan for two-years.

'Bath(-Drugs)-gate': First it was Matt Stevens, then Justin Harrison and finally Andrew Higgins, Alex Crockett and Michael Lipman. Bath Rugby have had a torrid time of it in 2009 when it comes to drugs bans.
Stevens, who ultimately admitted to having an addiction problem, was caught out at a random drugs test in the Heineken Cup while the other four were implicated in a end-of-season party story which ultimately led to them all being summoned to a club drug test - which none of them arrived for.

The saga that followed was a long and complicated one but, aside from Harrison who admitted to using cocaine, it was deemed that, while they could not prove drug use, the trio of Higgins, Lipman and Crockett were guilty of failing to arrive for a required drugs test and banned for nine months.

All three maintain their innocence and, with the exception of Higgins, plan on returning to the game as soon as possible. Crockett in fact has already agreed a deal with Bristol and will join up with them when his ban is officially ends next March.

'Quade Cooper-gate': Much of this incident remains shrouded in mystery but, however it ends, the idea of a professional rugby player breaking into a house in the early hours of the morning is always going to attract attention.

Following on from the Lote Tuqiri saga earlier in the year - which saw the former Rugby League player's contract with the ARU torn up - the Australian press have been quick to jump on anything which has surfaced and the rest of us have followed.

There have been plenty of rumours surrounding the incident with Cooper, some saying he was unaware of where he was, others that he stole a laptop? Whatever happened it remains one of the most scandalous stories of 2009. Professional sportsmen do not need to be breaking into houses so whatever the story is - it's going to be good.'Anthem-gate': No one, South African's in particular, is ever going to forget Ras Dumisani's rendition of 'Nkosi Sikelel' iAfrika' - ahead of the Springboks clash with France in Toulouse during the November Tests.

The Durban-born 'star' was reportedly the number one name on the list provided by the South African embassy to the French Rugby Federation when they were asked to provide potential musicians for the job.
Of course though there had to be conspiracy stories - 'The FFR planned it', 'It was a distraction tactic' - for days the controversy raged on with South African rugby officials demanding apologies and Dumisani himself first defending his performance and hen blaming the 'poor quality of sound equipment' provided to him.

rugby365.com
|
E-mail
|
views[

1

]