Havelocks the once mighty rugby force are tightening their defences to counter the onslaught in the forthcoming rugby season. With this in mind the new President of the Park Club businessman Tyronne Coonghe, Coach Thusitha Peiris, skipper Rajiv Perera and an enthusiastic band of rugby stalwarts such as Y.C. Chang, Gamini Fernando, Anton Benedict, Michael Jayasekera, Roshan Deen, Desmond Ludowyke, S.W Chang, Richard Murcott, Nimal Cathirasaswamy, Madhawa Edusseriya, Rohan Rodrigo, Arosh Jayawardena, Kamal Mahendra, Joe Coonghe, Gehan Dias, Sanjeewa Sarnapala and Arthur Fernandez have set upon themselves the onerous task of lifting the Club from its present depths to a more reasonable height in the coming season.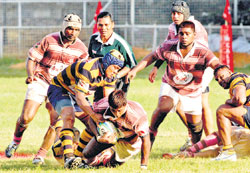 Havelocks rugby players caught in action at a recent rugby game.
But Coach Thusitha Peiris, an old DS Senanayake rugby player, who has just returned after a coaching stint with the Super 14 side Wataratah in Sydney, Australia, is determined to do well but he sees a lot of obstacles in his path. "We will overcome them step by step and do not be surprised if the Pink and Brown Panthers are a name to be reckoned with soon", he predicts confidently.

And how does he plan to do this? He has asked a loyal set of players to continue with the club and they hope to get the necessary funds from their previous sponsors Sri Lanka Telecom and Mobitel.

Thusitha joined Havelocks in 1992 and played rugby for the club for about 10 years captaining it in 1998. He says that he is grateful to his onetime coach Ana Sarnapala who groomed him.

The Club Management is also worried about the lease of the playing area and Club House which is on Crown Land. "We let adjoining schools practice on our grounds. These include Isipathana and Lumbini rugby teams for which no charges are levied. There is no other income only from the gate monies from matches, which has dropped drastically," laments Thusitha.

According to Thusitha Sri Lanka's star rugby player Sanjeeva Jayasinghe was a member of Havelocks but they could not keep him as he was lured to Kandy SC by Malik Samarawickrema. Incidentally Malik has helped out the Park Club at difficult times and they are grateful for his gestures.
| | | |
| --- | --- | --- |
| | | |
| Havelocks President Tyronne Coonghe | Havelocks rugby coach Thusitha Peiris | Skipper Rajiv Perera |
Thusitha has also plans of suggesting to the Rugby Union of conducting a separate competition for amateurs so as to encourage youngsters who cannot make it to the First and Second teams of clubs to have a competition of their own. "Most youngsters who are fresh from schools who cannot get into club teams get fed up and turn their sights elsewhere. Some even go abroad and thus deprive the country of a lot of talent," he says.

"The amateurs can be trained and could fit into the club teams." These plans are only a pipe-dream as Thusitha says that the Rugby Union must get their house in order by first getting an officially elected body in place instead of an interim body.

President of the Club Tyronne Coonghe, an Old Josephian who has represented his alma mater in rugby, athletics and swimming says that the club has to pay VAT (Value Added Tax) to the tune of Two Million Rupees and one of his biggest tasks will be to wipe out this deficit. His brother Fabian Coonghe has played rugby for the Air Force with players such as Jeff Rutnam, Ronnie Ibrahim, Harry Gunatilleke and Noel Fernando and was Mayor of Lincolnshire (England). Tyronne is also confident that with the manpower available to him the once famous rugby club will go places in 2010. Joining in unison and keen to add their bit to the interview were Roshan Deen and Richard Murcott, who are dead keen on putting back Havelocks where they belong – amongst the top four in the Caltex League.
|
E-mail
|
views[

1

]