Sports
---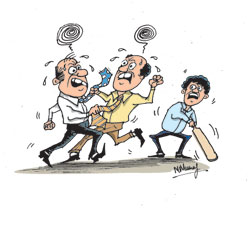 Clash of the titans

The big-man in the citadel and the powerhouse of the same institution are at loggerheads now. So much so recently an argument between the two had reached its climax. At this particular moment, the nephew who got a super structured per diem, thanks to the uncle, nearly manhandled the powerhouse.
Old habits never die
The powerhouse comes from a family that is closely connected to the family that has the venerated monument. They say one day the powerhouse had a meeting with the remaining political figure in the monument family and now the people from the house of the tress are on his trail.
Black magic
He was sacked as the coach of the team after they had faced a debacle at the SAF games meet at Decca. However, most of the onlookers are now surprised that the sacked man is in line to get a job in an advisory capacity under the same roof.
One wonders
In another development on the same debacle, the rear admiral is wondering if it was match-fixing. The reason is a statement that someone had made to a friend of his whilst they were on tour.
Up in arms
Club officials are now fed up with the current status quo in administration and they want a change.
Some of the old stalwarts have met several times and it seems that they are seeking a way of getting the message across to the person who lives at the house of the trees as he is the only man who could effect the change.
|
E-mail
|
views[

1

]