BERLIN, Dec 26, 2009 (AFP) - Seven-time world champion Michael Schumacher said he was gunning for an eighth title in his comeback to Formula One racing with Mercedes GP from next season, in an interview published.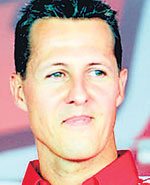 Michael Schumacher
"Obviously our only goal can be to fight for the world championship," Schumacher told the Berlin daily Der Tagesspiegel.

"And of course my goal can only be to again stand on the top step."

Schumacher retired in October 2006 and suffered a neck injury in a motorbike accident in February but the German pilot, who will be 41 on January 3, said had "no doubt" about his skills behind the wheel.
"I never stopped my physical training," he said.

Schumacher signed a three-year deal Wednesday to return to F1 racing with Mercedes GP for a reported seven million euros (9.9 million dollars) per year. He will be linking up with Mercedes's team principal Ross Brawn, who was the brains behind all of his world titles, and on the grid when the new season starts with the Bahrain Grand Prix on March 14. The German said Mercedes was the natural choice for him.
"I think there is no other team for which I would have seriously considered driving," he said.

"It was the combination of Ross Brawn and Mercedes that helped me get into Formula One. I am happy that I can give back some of what Mercedes gave me."

Schumacher was 37 when he hung up his racing helmet having competed in 250 Formula One Grands Prix, 180 of them for Ferrari.

He won 91 races, 71 for Ferrari, took 68 pole positions, 58 for Ferrari, and set 75 fastest laps on his way to seven drivers' world titles, including five for the scarlet scuderia.

Schumacher retired having just fallen short of Italian Ricardo Patrese's record of lining up in 256 races.
He had been due to make a remarkable return last season for Ferrari -- for whom he acted as a consultant after retiring -- as a replacement for the injured Felipe Massa.

But he was unable to race due to persistent neck pain from the February crash.

The terms of Schumacher's return, however, met with a frosty response from Mercedes employees who were disgusted by the seven million euros he will receive annually at a time of job losses.

"It's difficult for our workers to accept this and for many it is just beyond belief," said Bremen works committee chief Uwe Werner.

"On the contrary, we would have better understood if Mercedes had packed in Formula One racing alltogether."
|
E-mail
|
views[

1

]