PARIS, Dec 26, 2009 (AFP) - Not even the backing of the world's most powerful man. US President Barack Obama could persuade the International Olympic Committee (IOC) members to anoint Chicago as host city for the 2016 Olympics.

Instead it was the charismatic performance by Brazilian president Luiz Inacio Lula da Silva that handed Rio de Janeiro and South America their first ever Olympic Games when the vote was held in Copenhagen in late September.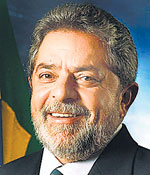 Brazilian President Luiz Inacio Lula da Silva
Indeed Chicago were humiliated as they went out in the first round of the voting, garnering just 18 votes of a possible 94 while Rio stormed through to overcome Madrid in the final round of voting - Tokyo having gone out in the second round - winning by 66 votes to 32.

To a certain extent the final duel came down to a fascinating tussle between two old giants of the sporting administrative world, former IOC president Juan Antonio Samaranch and former FIFA patriarch Joao Havelange.

However, whilst Samaranch pleaded for a final gift from the members he used to rule with an iron fist, Havelange jested that if Rio won everyone would be invited to his 100th birthday in 2016.
Lula - who had charmed his way round the globe lobbying frenetically for Rio - was overcome following the victory.

"Today Rio and Brazil presented their case to the IOC and they said an overwhelming 'yes'. It's an historic day in the life of Brazil," he said.

"I'm 63 and have seen many things in my life and thought I could never get emotional but suddenly I'm crying more than any other person."

Lula, whose mandate runs out before the Games, revealed that he thought Chicago would win it when Obama revealed he was coming.

"Obama had told me at the G8 summit that he wasn't going to come here but leave Michelle his wife to do it telling me she would do a far better job," said Lula.

"I told him 'if you don't go to Copenhagen I'll win'. Then he turns up but God wished it that we still won!"
Obama took it in his stride, even though he was obviously disappointed that his plea that by handing Chicago the Games would be a part of his process of rebuilding ties with the outside world after the George W Bush era.

"One of the things that I think is most valuable about sports is that you can play a great game and still not win," Obama said.

IOC President Jacques Rogge insisted that the vote showed that the Games were not all about money.
"If we had thought about how to make a lot of money we would have chosen Chicago," Rogge said.
"Money is not what drives IOC members when it comes to choosing a host city," he concluded.
Rio will also welcome two new sports as the IOC voted for golf and rugby union - in its sevens version - to be included, though, some believed that their inclusion was against the principles of giving sports with lower profiles their moment in the sporting spotlight.

The 2016 Games will fall outside Rogge's mandate as he steps down in 2013 but as he told AFP in August this year he has no intention of changing his mind about staying on.
"I would not want to extend my mandate," he said.

"Serving for 12 years is enough. I would not want to go further as one would lose ones' creativity and enthusiasm. You have to leave when things are going well.

"It is better to be regretted than regrettable," the 66-year-old Belgian added.
|
E-mail
|
views[

1

]