'I think people look at us now and think a bit differently, based on how we went about this series, even though we lost 2-0,' the captain said after the final Test against Australia.

Of that, there can be no doubt. The West Indies might have been starting out from a rock-bottom base but their spirited transformation from familiar innings defeat in the first Test to genuine, competitive scraps in the last two on perilous, foreign soil has earned a new respect.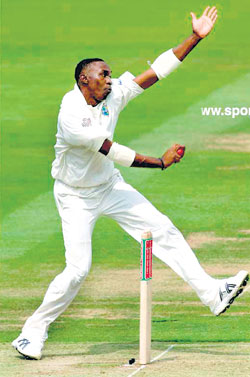 'WHAT A CRICKETER': Windies all-rounder Dwayne Bravo.
It has encouraged optimism everywhere for the resurgence of our cricket, for so long in such a state of chaos and controversy that its demise was widely feared, indeed promoted in some quarters.
Doubters certainly remain.

They are wary that another disruptive flare-up in relations between board and players' association is never far away. They point out that this Australian team is ordinary by comparison with its immediate predecessors and, in any case that we have been this way before.

Were the Australians not similarly pushed to the limit in the previous series in the Caribbean? Wasn't the Wisden Trophy regained from England after nine years only nine months earlier? Remember the home series against Sri Lanka in 2008 was shared.The difference is that such performances depended almost entirely on the usual suspects--Gayle, Ramnaresh Sarwan, Shivnarine Chanderpaul for the runs, Fidel Edwards, Jerome Taylor and Dwayne Bravo for the wickets. Not a single new player settled into place.
This time, Sarwan and Chanderpaul each missed a Test and hardly contributed. Taylor broke down after nine overs. Edwards wasn't there at all.

Instead, a set of newcomers--Kemar Roach, Adrian Barath, Travis Dowlin and Narsingh Deonarine, especially, but Ravi Rampaul and Gavin Tonge as well--capably filled the breach.

Two relative newcomers, Brendan Nash, the intrepid little left-hander, and Sulieman Benn, the lanky left-arm spinner, continued to add vital balance.

Most decisively, spirit and determination, glaringly absent in the plunge towards the bottom rungs of the Test cricket ladder, resurfaced in Australia, time and again.

The change was most noticeable in Gayle himself.

Just six months earlier, he revealed that he was an avowed Test cricket skeptic, a self-confessed devotee of Twenty20 cricket and a reluctant captain who later joined the general strike in the home series against Bangladesh.

Now, according to Peter Roebuck, originally his sternest media critique, he 'saved the series' with his leadership and his contrasting hundreds in Adelaide and Perth.

Many had found the wholehearted and frequently expressed support of his players difficult to comprehend. The harsh view was that they were comfortable with his laid-back attitude that did not demand of them the necessary discipline and hard work.

Whether so or not, he now found himself supported by David Williams as coach, West Indian rather than Australian, and Joel Garner, a legendary West Indian cricketer, as manager.

They had under them several players bursting with enthusiasm and commitment.

Dwayne Bravo, the key all-rounder, was returning to Test cricket after an ankle operation for the first time in a year and half. Fifty50 and Twenty20 was all he had had in the interim and Tests are still acknowledged as the real measure of a cricketer.Dowlin, Roach and Tonge were only there through the absence of the leading players that had offered them their chance against Bangladesh.

Deonarine, Barath and Ravi Rampaul were teenaged prodigies from different eras who, in contrast, had been denied their break after joining the strike.

It was ten years after Deonarine first turned out for Guyana aged 16 and two and a half years since his handful of Tests against Sri Lanka and South Africa. Rampaul's first match for the West Indies was an ODI seven years earlier. There were 35 more in the interim but this was his belated Test debut.
Barath, the current boy wonder, was on his first major tour.

All made their marks.

Bravo was inevitably in the thick of everything, a crucial hundred in Adelaide, telling spells of controlled swing and cut there and in Perth, a super catch here, a super catch there, tactical suggestions everywhere.
'What a cricketer,' Bill Lawry, the former Australian captain, gushed on TV commentary as Bravo snared one of his catches.

As Ricky Ponting can attest, Roach emerged as a bowler of menacing, controlled pace and cricket sense. He is just 21 and only the bane of fast bowlers, injuries, can prevent him from spearheading the attack for the next decade.

Barath, aged 19 and his reputation already known in the Caribbean and internationally through the Champions League in India a month earlier, marked his debut Test in Brisbane with a dazzling 104 (out of a 187 total). His prospects stretch further into the future than even Roach's.

Deonarine only made the Test XI in Australia because a hand injury eliminated his mentor, Chanderpaul. His second innings 82 in a testing situation in Perth confirmed temperament to go with talent.
Yet none of these typified the new spirit quite as strongly as Dowlin.

A stalwart in the Guyana middle order for a dozen years, Dowlin's modest average of 30 informed him of the truth that any dream of Test cricket was unrealistic.

Suddenly, the Bangladesh imbroglio turned the dream into reality. Strength of mind ensured it did not become a nightmare.

There were scores of 49 and 95 in his second Test, an unbeaten 100 in his second ODI. But the opposition was only Bangladesh. Australia would be the real test.

It was...and how.

Twice, only the misfortune of others opened a spot for him.

Ramnaresh Sarwan's stiff back brought him into the pivotal No.3 position in Brisbane. His rejoinder was the first innings top score, 62, when he was second in, last out.

In Perth, Barath's strained hamstring meant he had to go in first with Gayle, an unaccustomed role at any level. He filled it like a master, 55 spread over three and a half hours, the ideal counter-balance while his skipper blasted his memorable 102 off 72 balls.

At the age of 32, Dowlin proved that experience and character are as critical as youth and talent, just as another late starter, Ridley Jacobs, had done.

Judged on his lack of style rather than his surfeit of substance, Jacobs was only picked for the Test team at 31 after a string of failed younger alternatives. In the 65 Tests in which he kept wicket and made runs, he proved as reliable a player as the West Indies had.

Dowlin knows from recent experience that he is unlikely to continue for nearly as long as Jacobs. In between Brisbane and Perth, he was sacrificed for the return of Sarwan, the automatic choice for No.3.
Had his batting been as careless as his fellow Guyanese he would surely never wear the West Indies cap again.

Three years ago in Pakistan, Sarwan, then vice-captain, was shocked when captain Brian Lara informed him on the morning of the second Test that he was dropped and told to 'reflect and come back strong'.
Had there been another Test in Australia, Gayle would have had every right to follow Lara's example.
His back better, Sarwan returned to the XI in Adelaide for Dowlin. His batting there and in Perth reflected a recklessness that was inappropriate to the team's needs and in contrast to its new approach.
There was a slack drive to cover in the first innings in Adelaide.

In Perth, with a decisive third day ahead and his presence vital, he greeted the second ball with an extravagant drive that sliced a catch to gully.

In the second innings that would decide the match and the series, with Gayle and Dowlin already out, he chose an ambitious cut to the last ball to lunch that edged a catch to the keeper.

Sarwan is a quality player with an undeniable record of winning and saving matches.

His 105 was pivotal in the record victory over Australia in Antigua in 2003.

His 102 led the West Indies home in Port of Spain last year to level the series against Sri Lanka. His 128 held the Aussies at bay through the last day in Antigua six weeks later.

Before his recent aberrations, he had enjoyed an outstanding 2009 with three hundreds and a double in six Tests against England.

More is expected of such a senior player than he exhibited in Adelaide and Perth. If he hadn't noticed, people are looking at the West Indies differently now. Just check with his captain.

T&T Express
|
E-mail
|
views[

1

]