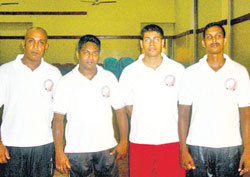 From left : Buddhi Daton Thabrew, Wasantha Bandara, Tikiri Hiranjith, Premil Navindra
Make way for the 44th National Sport in Sri Lanka - Wushu. In the wake of this the independent Wushu Development School has sprung up. This has been set up by the sport's advisors such as Buddhi Daston Thabrew who is dead keen on refurbishing the game.
The School pays attention to the development of the various aspects of the art and is dead keen on promoting it.

Thabrew has noted that a systematic method to build the physical and mental background of martial arts exponents has not been followed and as a result the performances at national and international tournaments have suffered.

"The School has now keen to remedy the situation", said Thabrew.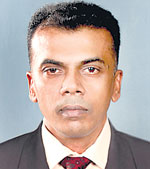 Shamen Liyanarachchige
As a first step, a training workshop was conducted on December 13 at the Galle Town Hall followed by an exhibition of Wushu. The School in the meantime has invited followers of the martial art to work in affiliation with it. Any information needed could be obtained from Thabrew, Technology Committee Chairman (Telephone 071 59158990) or Wasantha Bandara (Technical Advisor on 071 7895342).
"The school is committed to give a new lease of life to the sport in the coming year with the aim of creating clever, disciplined and brilliant exponents", said Thabrew.
|
E-mail
|
views[

1

]