Sri Lanka Cricket in its bid to get the real meaning of the forthcoming Provincial Tournament, which is the leading cricket tournament in the country are looking to induce a new lease of life to it.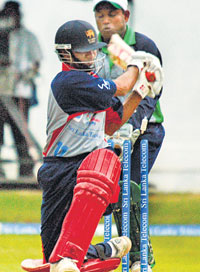 A Provincial Tournament match in progress.
(Ranjith Perera file photo)
On the completion of the Premier League Cricket Tournament which is considered the precursor to the Provincial Tournament is scheduled to be staged in February 2010.

Explaining the modus operandi of the tournament the Marketing Manager of SLC Charith Senanayake quipped, "We want the corporate sector of the country to understand that this is the premier tournament of the land and all 76 contracted players are in the fray during the tournament. We see at present that they spend huge amounts of money for associations with individual players for their product. But, here there is a golden opportunity for them to get a bigger product on their table for their consumption along with their products, because all teams will have a number of 'public idol' players canned in the team. Added on to it is the opportunity brand their players clothing, player endorsement of their merchandise and also the rights for ground branding."

Senanayake explained that a bidder or bidders could come up with their offers and then could take the ownership of the teams. In turn franchise holders could find team sponsors and Brand the teams and also use them for corporate functions. Senanayake elaborated: "Ideally, we are looking for an association of about three seasons where the franchise holders would hold their license. During this period they will own the teams at the Provincial four day tournament, the one-day limited overs tournament and the T20 tournament."

The former Sri Lanka top order batsman also pointed out that the winners of the local T20 tournament automatically gets invited to the Indian IPL tournament where the team would also get monetarily compensated.

He said the bigger picture of this effort is to see Sri Lanka Provincial cricket being run on the same lines like the Indian Ranji Trophy or the Australian Sheffield Shield where the respective state managements own the sides.
|
E-mail
|
views[

1

]