Former St. Joseph's first XI skipper Chathuranga Kumara flew out of Sri Lanka on Friday to join Southgate Cricket Club in England under a scholarship scheme. Kumara will play for the Southgate first XI team as an all-rounder in the Middlesex League Championship which runs until mid September.
Kumara becomes the second Josephian to win this cricket scholarship after Sri Lanka's newfound all-rounder Angelo Mathews. Mathews too represented the Southgate Cricket Club three seasons ago.
"It's really exciting to play under different conditions and learn new things. I'm eager to play there and hope that I'll be able to learn more on the game," Kumara told the Sunday Times shortly before leaving the country.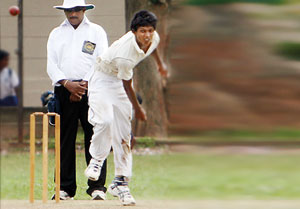 The gifted all-rounder who represented St. Joseph's in cricket from the junior age groups continued to perfect his art through experience. The right-arm fast medium bowler has the skill to maintain a perfect line and length and his excellent character allows him to bowl longer spells. As a right-handed batsman he has a natural knack for stroke making and has the potential to go for bigger knocks at given times.
Apart from playing as a cricketer at Southgate, Kumara will also be given coaching training and a course of academic training which includes information technology and public relations skills.
"It's really important to learn all these things which coincidentally goes along with cricket nowadays. I'll be looking forward for the coaching course where I'll have the opportunity of training youngsters. This will help me in perfecting my career as cricketer," he added.
Kumara who comes from a middle-class family is his mother's pet. He first took up cricket under the guidance of Rev. Fr. B. S. Perera who coached him during his first competitive season. He first attended Sri Jayewardenepura Central, Kotte and represented the school's under-13 cricket team in 2002 as a batsman.
The following year he was offered the captaincy of the under-13 team. From then onwards he developed his skills as an all-rounder. Kumara joined St. Joseph's in 2004 and continued to play in the under-13 age group.
His undying determination helped Kumara to expand his skills as he went on to represent under-15, under-17 and under-19 teams at St. Joseph's. While playing in his final year for the school Kumara also represented Colts Cricket Club in the Sri Lanka Cricket under-23 tournament. He continued his good form as an all-rounder and was also adjudged the best all-rounder of the competition.
Kumara becomes one of the talented cricketers to win the scholarship which is granted for a Sri Lankan under the coordination of Asitha Jayaweera. Jayaweera who is a former Royal and Sri Lanka Schools cricket captain in 1972 also acts as the chairman of the Sri Lanka Cricket United Kingdom Committee. He has successfully coordinated these scholarships for the past few years to help local talented schoolboy cricketers to gain international exposure by playing at minor county leagues.
Apart from Kumara and Mathews, Sri Lanka cricketers Upul Tharanga, Dhammika Prasad and Farveez Maharoof were the previous recipients of this scholarship. After Mathews, budding national prospect Dinesh Chandimal were also offered with this scholarship but due to an injury he could not go to Middlesex.
During the 2009/10 school cricket season Kumara scored 1007 runs and claimed over 75 wickets and also went on to win the All Island Best All-rounder's trophy at the Bata-Sunday Times Schoolboy Cricketer of the Year competition in 2010. Kumara was hopeful that through this experience he will soon be able to see the doors open at the national level.