The Spellmaster, televised on Sirasa TV every Sunday at 6 pm has now reached an exciting stage, with the top 250 spellers now battling it out to reach the top 20.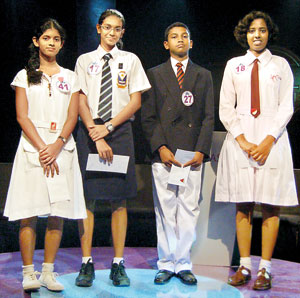 An initial pool of 7,000 spellers brought down to 2,000 was pruned down to 250. These 250 spellers are seen competing in 5 groups of 50 spellers each. 4 winners from each group will be selected to make the top 20 who will compete in the finals for the title of Spellmaster.
The first of these 5 competitions took place at the Sirasa TV studio in Ratmalana and 50 very nervous contestants were seen seated on stage anxiously awaiting their turn to spell out a word, the bright lights and cameras didn't make it any easier for them.
This time too, the contestants were given the opportunity to pick their words. In the 1st round the contestants were required to spell 2 words and allowed a choice, where he/she could select from 5 categories made available - Science, Nature, Culture, General and Business. In the 2nd round contestants were given a word out from a pool of words, and the winners been determined on their success in these rounds.
The tension seemed to tell on many of the contestants, who however performed well with a majority of them showing signs of having improved tremendously over the weeks.
After the 1st round of words, sixteen contestants had spelt both words given to them correctly. The most popular categories amongst the contestants were 'Science' and 'General'. These 16 spellers had to go through another round of spelling, after which 9 qualified to round three. At the end of that round, the 4 winners had been found. Taryana Odayar from Stafford International School, Rochelle U.Silva from Holy Cross College Gampaha, M.N.Farook from Trinity College Kandy and Sandani Vithanage from Devi Balika Vidyalaya Colombo 8, made an impression by spelling all the words given to them accurately.
Taraya Odayar, on qualifying to the Top 20, said "I feel really happy to be going into the next round and I'm really happy and satisfied and I'm looking forward to the next round." Rochelle Silva expressed similar sentiments saying "I feel great! It has been a tough competition and I'm so happy to be here, I've learnt spelling of course and how to stand up and be confident and my vocabulary has expanded a lot."
With 16 places remaining to complete the Top 20, tune into Sirasa TV this Sunday at 6 pm to witness the 2nd installment of the Semi Finals, where another 50 contestants will battle it out for 4 more places to the finals.