The Imperial Institute of Higher Education (IIHE) recently signed up with i-Context (Pvt) Ltd, to deploy a comprehensive Academic Management and Virtual Learning environment, the Virtual Academy®.
Virtual Academy ® is the latest cloud based application offering from i-Context, a fully integrated, centralized administrative and e-Learning platform that unifies services, academic delivery, administrative management, and reporting for the range of private, public, and post secondary education institutions.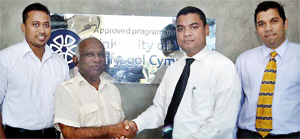 Dr. T.S Weerakoon (CEO - IIHE) and Anjana Ratnasara (CEO/Director - I-context) exchange MoUs while Varnika Soysa (Snr. Manager - Marketing, IIHE) and Bevin Gabriel (Head of Business Development & Sales, I-Context), look on
IIHE is the ONLY institute in Sri Lanka, which is DIRECTLY associated with the University of Wales, UK, to offer degrees in Business, Software Engineering and MBA. Keeping in line with the vision of providing best in class facilities to students, IIHE is now re-located conveniently at a spacious campus near Majestic City. This new development will further enhance the student experience, with features such as, online student registrations, web based payments, re-visiting lectures in the case of students being absent or be present at the lecture from a remote location via internet, etc.
Speaking at the event, Anjana Ratnasara, CEO of i-Context stated "Sri Lanka's quest is to become a knowledge hub and it is of paramount importance to have skilled human capital available in the country to achieve this objective.
Institutions such as the IIHE play an integral and important role in nurturing the skills and talents of our youth, to fulfil the aspirations of the nation. Therefore we feel privileged to partner with IIHE to provide the Virtual Academy® solution, which will enable them to streamline the academic administration, and enhance the learning experience of their student population using cutting edge ICT advancements, while also helping Sri Lanka as a nation to fulfil its country development goals."
"We are excited about the capabilities of this system and the transformation that it will bring to the IIHE" said Dr. Thilak Weerakoon, Chief Executive Officer at IIHE. "In order to provide the best possible learning and administrative environment for the IIHE we needed a product that is flexible, integrated, and easy to use, with 21st century technology. I'm confident that, after a comprehensive evaluation, we have selected the right solution which will cater to the present and future needs of IIHE."