Established in 1990, the Colombo International Nautical and Engineering College (CINEC) Maritime Campus has, over the past few decades, established itself as the prestigious option for those who want a career in the fields of Maritime studies, Engineering, Logistics, Management and IT.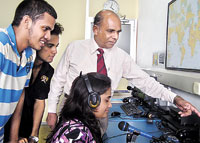 The organisation is the only recipient of the prestigious National Quality Award for three consecutive sessions for Education and Training Services. It is also accredited with ISO 9001 Quality Assurance Standards, ISO 14001 Environmental Standards and OHSAS 18001 Occupational Health and Safety Standards. The campus is accredited to DNV Maritime Academy Standards.
Steering away from the path of maritime, the strategy here is to offer students more options at a campus that has long been recognised for stringent quality. Speaking to The Sunday Observer about the new programmes, Marketing Manager for CINEC Maduranga Perera stated, "Unlike most other institutes that offer part of the degree locally and the rest at a foreign university, we offer students full and original UK degrees which are validated."
Part of the new degree programmes include Civil Engineering, Architectural Design Technology, Interior Architecture and Property Development from September along with the Engineering degrees which we are currently conducting namely Electronics and Communication, Mechatronics, Mechanical Engineering, Automotive Systems Engineering & Engineering Design Management. The campus life at CINEC compliments the degrees, so that students get a balance of hard study work with superior lab and workshop facilities and recreation in the form of a gym, pool and sports activities that help develop teamwork and discipline.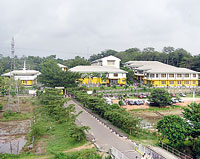 According to Maduranga CINEC teaches its students lessons that no other campus does. The institute gears them to take on the world and trains them to be a part of an elite set of engineers and now in other fields than maritime.
He added that the future of the country's infrastructure looks bright with a younger and more enthusiastic generation of engineers being groomed at the institute. On the topic of faculty staff, CINEC is the only institute in Sri Lanka to have been awarded with an Asian Quality Award and is equipped with in-house lecturers who are trained, experienced and qualified and are complimented by visiting lecturers from the UK. The institute also facilitates student loans or easy payments structures to ensure a student's convenience.
CINEC also offers a BSc in International Transportation Management and Logistics through the Dalian Maritime University of China. The Bachelors degree in International Transportation Management and Logistics aims at developing superior transport and logistics management graduates with well-grounded knowledge. The programme prepares students for a management career in aviation, shipping, freight forwarding, the import and export industry and the seaports and airports industry.
On expansion, CINEC is already present in Jaffna and that International Foundation programmes are available for students who are O/L qualified. Perera said, "Apart from offering students the best of international engineering education right here in their own home, we also offer them this education at a fraction of the cost. We still have slots for the September intake.