An Integrated Health, Natural, Engineering, Social and Management Sciences Approach to Development Practice.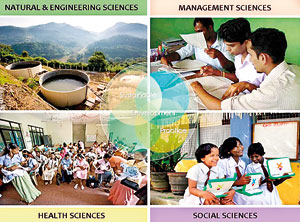 A unique global opportunity at Peradeniya
A new Master of Development Practice (MDP) degree is to be launched by the University of Peradeniya in August 2011. This is an internationally recognized two-year, graduate level professional degree programme, designed to equip development professionals to confront complex development challenges.
The University of Peradeniya was one of 14 universities selected worldwide to receive seed funding from the John D. and Catherine T. MacArthur Foundation to develop a new innovative postgraduate programme in development practice. It is the only University in Sri Lanka and one of five universities in all of Asia to receive such funding and be accepted as one of 23 member universities in the global MDP network.
Within the network, students and lecturers in participating universities have the opportunity to interact with each other and share learning resources in settings like the web-based global classroom course. Universities within the network may also develop arrangements for student exchanges for coursework and internships. The global MDP programme is the first Master's Degree of this kind to integrate the four pillars of sustainable development-Health Sciences, Natural Sciences and Engineering, Social Sciences, and Management.
An innovative degree for a new generation of development professionals
In 2007, a group of 20 leading scholars and practitioners in the field of sustainable development were commissioned to conduct a situation analysis of development educational programmes across the globe. They found that existing degrees such as the Master's in Development Studies, Public Administration, Business Administration and Public Health lacked critical linkages between the natural, social and health sciences and management.
The Master of Development Practice was initiated to address this gap.
Multi faceted skills for professionals in Sri Lanka and MDP careers
The MDP at Peradeniya targets candidates with an interest or background in working in development administration, development banking, development management, development education, public administration, public policy, and related areas.
It will equip students to effectively lead multidisciplinary teams, incorporate knowledge and skills from different disciplines in the design and application of development interventions, design, monitor and evaluate projects while paying attention to sustainability, economic, environmental and social aspects; use data analysis and spatial analysis tools (e.g GIS, Stata) and communicate effectively on technical details with experts in many disciplines. MDP graduates will be able to develop integrated policy solutions that are scientifically, politically and contextually grounded.
Rewarding careers await MDP graduates locally, nationally and globally, in national and international development agencies, non-governmental organisations, research institutes, government departments, financial institutions, private companies, media and civil society.
The Programme
The MDP Degree with 68 credits spans 24 months, including a 3 month internship. A Diploma in Development Practice comprising 20 credits is also available. The MDP programme includes six introductory/refresher courses, 18 compulsory courses in core competency areas within Health, Natural, Engineering, Management and Social Science areas and 3 optional courses. Students will follow a three-month internship between the first and second years of the programme in a leading development practice organisation.
A global classroom course provides students the opportunity to interact in real time with 23 other MDP countries as well as to engage in discussions in chat rooms and via email.
Resources at Peradeniya
MDP students have access to the teaching and learning resources of the best-endowed university in Sri Lanka.
Including academic staff from the University's 72 academic departments in 8 faculties (Agriculture, Allied Health Sciences, Arts, Dental, Engineering, Medical, Science, Veterinary Medicine). In addition, the MDP draws on resource persons from other Universities and institutions from within the country, as well as from overseas.
In addition to the University of Peradeniya's Library Network, MDP students will have access to development resources and literature provided by the global network and development agencies.
MDP students will also have primary access to Data Analysis and GIS computer labs and an audio-visual equipped classroom provided for the programme under MacArthur Foundation funding.
The Master of Development Practice has already received an extremely encouraging response from a wide array of professionals, administrators and practitioners aspiring to be a part of its inaugural batch in August 2011. MDP promises a rewarding experience and comprehensive exposure to its participants with strong employment and career advancement prospects in the development field.
For more information, visit: www.pdn.ac.lk/arts/econ/mdp and : www.globalmdp.org
Contact: mdp@pdn.ac.lk
Telephone: +94-81-2392825
Photocredits:
Water Tank, Maternal and Child Health Clinic: :© Shahidul Alam/Drik/Majority World/World Bank
School Children: © Chulie Keertisinghe De Silva
On-site checking of field survey questionnaires: © Suresh de Mel
Photos by Shahidul Alam and Chulie Kirtisinghe de Silva are from ongoing Sri Lankan Government development projects supported by the World Bank and are used with World Bank permission.