Challenges faced by Sri Lankan students
Sri Lanka is one of the few countries in the world to provide free education to its people. It is therefore no surprise that Sri Lanka is able to proudly declare such a high literacy rate and have so many students pursue higher education. Over the past few years, the number of higher education options available to students has increased greatly. However, a student still has to consider various factors and face many challenges, such as the lack of seats in local public universities, and the lack of accurate information and guidance available to students.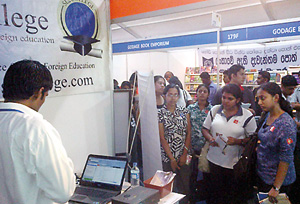 Free access for students through SL2College
Nayana Samaranayake knew first hand the challenges a Sri Lankan student has to face when applying to higher education institutions abroad. In 2005, Nayana formed the beginnings of SL2College as an interactive forum on Yahoo! groups while studying for his Masters in Computer Science at Stanford University, USA. His idea was to create a platform that gave students who had questions about applying for higher education in USA access to free, unbiased and up-to-date information. They could post their questions on the forum and those who had experience in the relevant field could answer. Following the overwhelming response to this group, Nayana was joined by Nishad Jayasundara and DC Jayasundera, fellow students at Stanford University, and Sanjaka Wirasingha, who was studying at Illinois Institute of Technology at that time. In 2008, they formed www.sl2college.org, SL2College's own website.
First of its kind
SL2College, largely based online, may be the first of its kind in Sri Lanka. SL2College became a legal entity in Sri Lanka through the incorporation of the organisation as S L 2 College (Guarantee) Limited by the Registrar General of Companies on the 17th of December 2010.
Today, it has become a global community of past and present Sri Lankan graduate students, faculty members and entrepreneurs from many countries, including USA, Canada, Australia, UK and Singapore. They have diverse backgrounds and many of them have high school and undergraduate experience from Sri Lanka. They share their own experiences so that Sri Lankan students who plan to pursue higher education can learn about the best local and foreign choices available to them. Some common topics of discussion include how to present the best application possible, what it is like to live on a campus in a foreign land, funding and scholarship opportunities, work experiences and much more.
All services are provided free of charge since SL2College strongly believes that information about higher education should not come with a price tag. Some of its services include a forum on the website, mentor program, information seminars at local universities and schools, exhibitions, internship postings, weekly articles, live web chats and much more.
New initiatives
SL2College has worked closely with many key local and foreign organizations, such as the Fulbright Commission and other government institutions. Some of the biggest education exhibitions in Sri Lanka, such as Edex and Future Minds, have recognised the important role SL2College's provision of free, unbiased and up-to-date information plays in the education arena, and have given SL2College free space at their exhibitions.
The latest venture launched by SL2College is the 'Brain-Gain' initiative that encourages Sri Lankan graduates to return to Sri Lanka to work and contribute towards the development of the country. SL2College also plans to connect with people who have returned to Sri Lanka after studying or working abroad, conduct interviews with them and create a forum for discussing issues related to moving back to and working in Sri Lanka (such as legal, logistical, etc). Such efforts continue to grow in many more avenues as SL2College becomes a truly Sri Lankan visionary establishment.
The greatest aspect of SL2College is perhaps the opportunity it has provided for past and present Sri Lankan students and faculty living abroad to give back to Sri Lanka and be involved in a common cause - helping all Sri Lankans achieve their higher education goals and in turn, develop Sri Lanka's human capital. To share your experiences and suggestions, or to get more details on any of the services at SL2College, please write to us at info@sl2college.org.