Do you want to be rich? Do you want to get promotions in your jobs? Do you want to save money? Do you want to reduce stress caused by work pressure? Do you want to enjoy life and have fun with your loved ones? Time MAP has got the solution for all the above problems.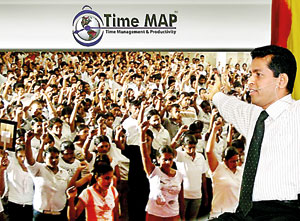 Have you ever wondered why some are so efficient with Time while you cannot accomplish even one tenth of the same quantum of work, further they are more relaxed and healthier at the end of the day than you? The reason is simple. Effective TIME MANAGEMENT! …Yes, and more than that. It is the secret of Space Management and Results Management. You too could master the technique by following the Time MAP, the ultimate method to come out with your best using minimum effort and time.
Time MAP is just a basic set of tools employing a Time Management matrix that enhances your productivity to a very high level, while staying cool without exhaustion. After all you must be satisfied with yourself and your completed work.
Mustn't you .....? Guess what!
Time MAP enables you to accomplish your task in double quick time.
A 48 hours work in a day! The technique simply connects you with your brain clock, curing stress and fatigue with its relaxation techniques and body mind fitness formula you can experience a total transformation of your life with this exciting and invigorating programme.
Learning the greatest technique of managing time and space, gaining ultimate creativity to be rich as fast as you want, mastering alpha mechanism of the subconscious mind to have ultimate peace of mind, relaxation and happiness are some of the key benefits you can get by attending Time MAP.
"We can now coach extremely busy people how to create a balance between work life and personal life, while also being productive and efficient in everything they do. We can also teach them to cover targets and achieve goals daily, weekly, monthly, annually and periodically", creator of Time MAP Dr. Kuma Iddamallena said.
Benefits
Complete 48 hours work in just 24 hours by learning world's best time and space management tools.
Understand the alpha mechanism of the subconscious to cure stress and have a totally efficient and relaxed day.
You will be able to identify your positive and negative time behaviours.
You will be able to design and create a new time behaviour with which you will achieve 100% more efficiency and productivity in your life, work, profession and business.
You will have a remarkable change about the way you communicate with your family members and allocate time for them.
You will learn the art of being creative and smart as against working hard.
You will also learn a methodology to plan your total life, setting specific goals and targets.
You will have more than enough time to do anything special that you couldn't do because of "No Time".
You will get the results you want and learn to earn more money as you desire, still having time to have fun with your loved ones.
We have conducted the Time MAP Programme successfully over 16 years for private and public sector organizations. Thousands of participants have immensely benefited by practising the Time MAP tools. It is not a mere lecture. Time MAP includes a number of Brain Programming Techniques. Mind Muscle Vibration Therapy (MMVT), Neuro Linguistic Programming (NLP) are some of the models Dr.Kuma uses. These are extremely powerful to change someone's time behaviour spontaneously and show results in every aspect of life, profession, business or whatever you do. Time MAP techniques are simple and easy to follow. We have always received 100% positive feedbacks from the participants at every programme throughout the last 16 years. This is the last programme for this year. Therefore it is your last opportunity to enrol immediately.
Who can benefit :
Senior leaders, CEO's, Directors, senior managers, professionals, business owners, employed busy parents, any body who is busy and dizzy, those who work with stress and pressure still wishing to have a relaxed and happy life….etc. can benefit from this programme.

The next programme in the English medium is scheduled to be held on June 29 at Hotel Galadari from 8.30 a.m. to 5.30 p.m and the Sinhala medium programme is scheduled to be held on August 21 at WISDOM TRAINER Auditorium, Nugegoda from 8.30 a.m. to 5.30 p.m.
Public sector and private sector organizations can nominate their members in advance and receive a discounted investment plan. Individuals who want to join the program on their own can obtain a free scholarship by introducing three members to the programme. If you are interested in joining this programme please call WISDOM TRAINER hotline 011 4 301 301 now and reserve your seats. You can also get further information about the programme and discount packages by calling the above number. We wish you good luck to have a great future by attending Time MAP.