Tissa Central, a mixed school based in Kalutara is well known for its sound footing in sports, especially in cricket. The school was established in 1936 with the contributions of well-wishers around the area. At the beginning Tissa Central had only 11 students and seven teachers. But after 75 years Tissa Central has established itself as one of the leading schools in Kalutara area able to produce students talented in sports and studies.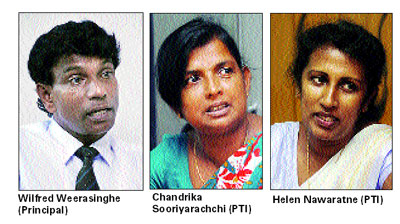 Tissa Central has grown from strength to strength. Today it is situated in a 10-acre plot of land with a student population of 2650 and a staff of 103 teachers. The school also boasts of having one of the largest grounds in the area but to the disappointment of officials and students it's not in the best of shape.
"Despite setbacks Tissa Central is doing well at sports. We only do a handful of sports. But if you see the amount of interest, it's really amazing. However there are a few drawbacks and it up to us to put things to square one," said the Principal of Tissa Central, Wilfred Weerasinghe.
Weerasinghe who has been the school's principal since 2000 has been a strict disciplinarian throughout his tenure which had a brief break in 2004. Tissa Central has produced over 100 students to the university level each year. Their academic successes have been at a appreciative height right throughout as the principal revealed more facts.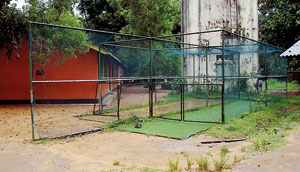 "The first girl and boy to graduate from Tissa Central are still among the living. The girl, Kalyani was a government servant and the boy Sydney Weerawardena was a civil engineer. It's a great thing to have such characters among us and we take pride in revealing these facts," added Weerasinghe.
Tissa Central engages in almost ten sports. There are over 600 athletes. Additionally the school has a lesser number of activities. There are also four active societies. The school authorities have made it compulsory to all students to be a member of at least one society.
"If you take the Buddhist Society, almost all the students are members. We have different plans at each level, ranging from classes to groups. Though the number of societies is not that big, it has a good following on whole," Weerasinghe said.
Among sports Tissa Central is making its progress in athletics, volleyball, netball, kabaddi, chess, table tennis, badminton, karate and elle. Cricket is the most attractive. The Tissa Central cricketers receive the treatment of stars for the amount of their performances during a season. Their cricket team has generated a great fan base from around the area as well as from overseas. Apart from their successes at cricket, netball and chess has been productive sports during the recent past.
"When I took over in 2000, sports was not in good shape. During the same year I had to disband the kabaddi team for disciplinary reasons. The decision may have been harsh but I'm sure that it made a huge impact on all students. Today I can proudly say that I have over 2500 students who are well disciplined," Weerasinghe said with pride.
However the school also experiences many obstacles to continue with their sports activities. The state of the school ground which is said to be the largest in the area is a major setback. The school at the moment is gearing up for its 75th year celebrations which falls in November this year. At the same time the authorities have approached the governmental officers to help Tissa Central in their cause to develop their needs which include a fully fledged playground and a pavilion.
"Our grounds are not in a state to host any meets or events. We sought the help of a few government officials in the area as well as well established past pupils. We initiated with a project to expand our ground facilities but during this course of action we had to demolish a few structures. So at the moment we are coming up with a three storied building which will be followed by another. This is all being done to give room to the ground which is on its way to include a 400 meter running track and a pavilion. We are also looking to include a swimming pool," the principal said.
As other emerging schools Tissa Central too experiences the hardships and uncertainties which hamper their progress to the next level. One of the biggest hurdles experienced by the school is the attitude of some parents who at times stand across promising sports careers.
In addition to their woes the school lacks the services of well qualified coaches. Apart from cricket which is also coached by a past pupil other sports suffer mainly due to this set back. The school has two Physical Training Instructors (PTIs) who eventually act as coaches at sports that are popular. But the PTIs lack the up-to-date coaching methods to assist the athletes.
"It's part of our syllabus to teach health science and physical training. But each of us has to cover over 30 classes per week .Additionally we also coach a few sports. We know if we had coaches for each sport we could do better. As an emerging school we are not in a position to pay big sums for coaches. Those areas have to be developed," said the PTIs, Helen Nawaratne and Chandrika Sooriyarachchi.
Tissa Central has an averagely strong Past Pupils Association and a School's Development Committee which helps the school generate the much needed funds to run their annual activities. The school is in further need of assistance to strengthen their facilities as a school which can do well in sports. Their promising netballers have made it a habit to enter the national squads each year. The school authorities are hoping that they could eventually reach the same level in other sports.