The Faculty of Engineering (FoE) of South Asian Institute of Technology and Medicine (SAITM) has reached yet another milestone in the history of engineering education in Sri Lanka. In organizing its inaugural research symposium SAITM has become the first ever non-state sector higher education institute in engineering to do so in Sri Lanka, an achievement of unparalleled success indeed considering the short span since its establishment in 2009.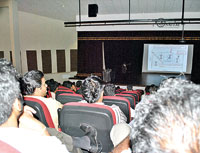 SAITM FoE offering 5 world-class BSc Engineering (Honors) degree programmes in affiliation with the prestigious Asian Institute Technology (AIT), Thailand is rapidly establishing itself as the centre of excellence for higher education in Sri Lanka with its high quality programmes well backed up by top notch staff and infrastructure. Already with a full-time student population of over 200 in two intakes the faculty is now seeking to venture deeper into research activities linking up with the industry and the universities and higher educational institutes both local and foreign. As a first step in that direction the inaugural research symposium was successfully conducted at SAITM auditorium at Malabe on May 27 and 28 with two days of sessions, presentations ranging from Civil, Mechanical, Mechatronics, Electronics and Electrical engineering and Computer Science and Software Engineering amidst a large gathering of authors, scientists, industry experts, academics of local and foreign universities and students.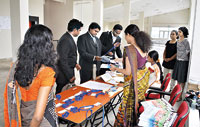 The keynote addresses were delivered by Professor Dileeka Dias, from the Electrical Engineering department, University of Moratuwa and Professor Ranjith Dissanayake, from the Civil engineering department, University of Peradeniya to an audience comprising many keen observers and well wishers who seek high quality engineering degree awarding institutes in Sri Lanka making the country the hub of advanced education in the South Asian region. To that end SAITM FoE has progressed at a rapid pace, partnering with AIT, Thailand, one of the premier international university in Asia where SAITM engineering students complete their final 2 years of study gaining an international exposure in a multi-cultural background under a world renowned multi-national academic staff.
The forte and culture of AIT is research and it is a well accepted fact that no university is recognized for quality output unless a substantial portion of its delivery is in research. It is also a well established fact that good engineering undergraduate education should be amply complemented by exposure to research and development activities. With this requirement in mind SAITM FoE has introduced a host of activities where students will be actively exposed to engineering research with the establishment of research units attached to Civil and Mechatronics engineering departments headed by highly qualified academics with a wealth of experience. This of course is in addition to study modules designed to incline towards hands on research based activities introduced by AIT in their curricular which SAITM engineering students follow in their degree programmes.
To facilitate and accelerate its growth towards attaining the cherished goal of highest standards, SAITM FoE has already established an Industry Consultative Board (ICB), an extended faculty comprising a panel of highly respected industry experts and academics to fine-tune curricular, research projects and enhance the potential of marketability of SAITM engineering graduates. Already, the results of such programmes bearing fruit is evident with the highly enthusiastic contribution and participation of students in SAITM RSEA and in their preparation for the next year which is going to be a permanent and important fixture in the faculty calendar. It is no exaggeration to say that SAITM FoE is well on its way to provide internationally accepted, highest quality engineering degree programmes to students, both local and in the South Asian region who hitherto had to pay exorbitant fees abroad to fulfil their dream of becoming world-class engineers.