Become a direct student of Foundation/Degree/Postgraduate
programme of an Australian University right here in Sri Lanka
Higher education is the single most important contributor to success in life. Students are investing more and more to be qualified from an international university, but few of them get the opportunity to enter an international university.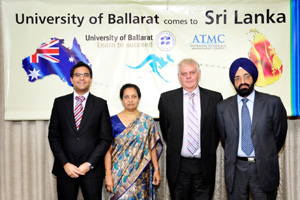 Standing from left- right Dr. Manish Malhotra- CEO, ATMC Australia Mr. Ranjani S. Goonetilleke- Academic Advisor, ATMC Sri Lanka Mr. Bryan Douglas Cole- Director of Studies, ATMC Australia Mr. G.Bajwa-Director (Operations) ATMC Sri Lanka
University of Ballarat (UoB) has around 25,000 international and domestic students. UoB is committed to serving regional Victorian communities, yet have a broad national and international outlook. UoB offers the best of both worlds; combining a strong tradition of 137 years of tertiary education with the freedom and dynamism that comes with being a multi-sector University with close links to local industry and technology .
Dream of every student and parent is to study directly in a Degree programme but, due to a number of constraints they are unable to fulfil that dream. University of Ballarat Sri Lanka study centre (UBSL) will offer a chance to enrol directly into the University Foundation, Degree and Postgraduate Programmes
University of Ballarat Sri Lanka Study centre (UBSL) offers courses directly moderated by the University and the student will be a direct student of an Australian University from day one. The courses offered by the University starts with a foundation course for O/L students right up to postgraduate studies.
The UoB is Australia's only regional multi-sector university. We are the third oldest site of higher learning in Australia, and offer secondary schooling, technical and further education (TAFE), higher education, and research opportunities.
The UoB has six campuses in Australia located at Mt Helen, SMB and Camp Street campuses in Ballarat and at Horsham, Stawell and Ararat. The UoB also works with a range of partner institutes across Au -stralia and the world.
UoB has taken a path breathing step in opening a study centre in Colombo - Sri Lanka in association with ATMC ( Australian Technical & Management Center)
This campus will endeavour to fulfil the long-standing requirement of the Sri Lankan student to gain International education at an affordable cost, and within easy reach. The student will be enrolled directly as University of Ballarat (UB) students. The Academics in UBSL study centre will be moderated directly by Australia. The student will be studying the same course as their counterparts in Australia at less than 1/3 the cost.
The parent will not be required to go to the process of having millions of Rupees for Visa purposes. The student will get a world recognized degree right here in Colombo. Why should Sri Lankan students select University of Ballarat Sri Lanka Study centre as their higher education centre?
Local campus - located in Colombo - Sri Lanka
We the UBSL is the first institute in Sri Lanka that provides the Sri Lankan students direct enrollment in an Australian University right from Foundation level courses till Postgraduation. Our student can complete the degree without leaving Sri Lanka at an affordable 1/3 the cost of direct study in Australia. The student can start studies in August, November and March each year.

Accessible academic faculty and staff
At UBSL you are a name not a number. Academic and administrative staff will quickly get to know you
Small class sizes
At UBSL our class sizes are small, so that your learning experience is enjoyable and you do not get lost in the crowd. Your individual learning needs are of utmost importance to us.
Modern equipment
The college employs contemporary technology in all aspects of the course deliveries, training, computer labs etc.
Excellent teaching facilities
Our classrooms are spacious, fully air conditioned and inviting. They are equipped with technologically up to date learning and teaching equipment and resources. UBSL is dedicated to provide the latest and best hardware and software solutions for all students.
Strategic career development and job placement assistance
We provide specialist career services, including career coaching that is delivered by a qualified careers counsellor. These services are free to all enrolled UBSL students and include a programme on Strategic Career Managements that is exclusive to UBSL. It includes workshops that can assist with identifying career opportunities, resume development and prepare for interviews. Additional Career Assistance sessions are designed to help students to maximize their employability outcomes. Sessions are scheduled regularly throughout each of the three Semesters.
Extensive orientation week
We understand that students need a lot of support to choose a career relevant to their targets and interests.
Internships and industry experience
We offer the students actual training and internships in the actual workplace environment to make them job ready.
Fast track three semester option
At UBSL you have the option to do three semesters in one year to fast-track your studies. For example this enables you to complete a three year degree one year earlier than students studying in a conventional two-semester system.
Free English sessions
We at UBSL recognize that students might need additional support to improve their English knowledge
IELTS preparation classes
Time-tabled classes are scheduled to provide students the opportunity to practise sample test questions and activities under test conditions in the four macro skill areas of Listening, Reading, Writing and Speaking. Preparation classes are available for the Academic module of the IELTS test and the General Training Module of the IELTS test.
General Language support classes
University of Ballarat Sri Lankan Study Centre provides scheduled General Language support for all students seeking to improve and enhance specific or general language skills in the four macro skill areas for Listening, Reading, Writing and Speaking
PROGRAMS AND COURSE STRUCTURE @ UB Sri Lanka Education Centre
Certificate IV ESL (Further Study)/UB Foundation Year in IT and Business Bachelor of Business Bachelor of Commerce (Accounting) Bachelor of Information Technology with specializations in Networking, Games and Graphics, Software Development Master of Information Systems Master of Information Technology Master of Business Administration
Students who wish to join us, please visit our Colombo education centre
University of Ballarat Sri Lanka Study Centre
Australian Technical & Management College
No.113, "Habitat House"
Dutugamunu Street, Kohuwela Sri Lanka.
E-mail: ubsl@sltnet.lk
Web: www.ubsrilanka.lk
Tel: +94 11 5553237, 2817317
Fax: +94 112 817717
Registration for August intake is now on,