Vidura College has traveled to India with its under 13 cricket team and under 12 and under 14 basketball teams, to participate in their 5th Indian Sports Tour, which is set to take place in Chennai, Bangalore and Mysore, throughout this month.
Their cricketers will be competing in the Y.M.C.A College of Physical Education Bangalore Cricket Academy T20 tournament, which will feature schools and cricket academies from Bangalore such as St. Lucias High School, St. John's High School, St. Michael's High School, St. Joseph's High School, the Bangalore Young Stars Cricket Academy and the Y.M.C.A Academy.
In the other invitational tournament conducted by the Y.M.C.A College of Physical Education Basketball Academy, Vidura's young cagers will go head to head with the Y.M.C.A Academy's basketball team as well as the sides of St Lawrence's High School, St. Patrick's High School, St. Mathew's High School and the Bangalore Basketball Academy, which are all based in Bangalore.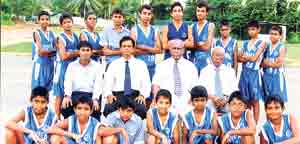 Basketball (Standing): Aminda Jayasekera, Tikiri Rathnayaka, Rajith Wijesinghe, Isika Gunaratna, Bishan Gamage, Yasintha Palpola, chandima Wickramatunge, M. Adnan, Sachitra Perera, Pamod Jayasinghe.(Seated)- Mr. Kasun (Coach), Mr. S. Wijerathne (Master-in-Charge), Mr. D. Sumanasekera (Principal), Mr. Upali De Silva (Sports Coordinator). (Squatting): Maneth Wijetunga, Aritha Jayarathna, Mahela Weerasekera, Dantha Wijerathna, Thisal Jayatissa, Yasiru Rajasinghe and Hasitha Mendis.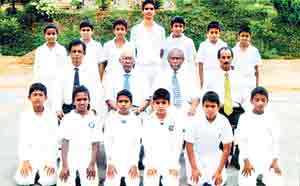 Left to right Standing: U.K Kumarasena, H. Kumarasekera, H. Dharmarathna, M. Vidumal, K. Abeywardena, N. Kandawinna, D. Perera, P. Wijesinghe.Seated: Mr. S. Wijerathna (MIC), Mr. Upali de Silva (Sorts Coordinator), D. Suimanasekera (Principal), Ramesh Perera (Coach) Front squatting: A. Welagedura, P. Ranasinghe, S. Gamage, D. Herath, P. Fernando, E Weerasinghe.