Toastmasters International - District 82 comprising of Toastmasters' clubs in India and Sri Lanka held their semi annual conference - Reverberation 2010 - recently at The Retreat - a 5 star resort hotel in Mumbai. Over 500 delegates rejoiced, rejuvenated and reverberated at the event including a delegation of over 125 Toastmasters from Sri Lanka.
The three day conference was found to be educational and entertaining. During the conference, the district level humorous speech and the evaluation contests were attended by participants from all 14 divisions of Toastmasters District 82. Sri Lanka was proud to have 2 participants who got qualified for the finals of humorous speech contest, namely Toastmaster Sudath Fernando from Division J and Toastmaster Sonia Vitarana from Division A, who was privileged to be the only female contestant. In the evaluation contest too Sri Lanka had two finalists namely Toastmaster Alroy Mascrenghe from Division A and Toastmaster Bhathiya Hettiarachchi from Division H.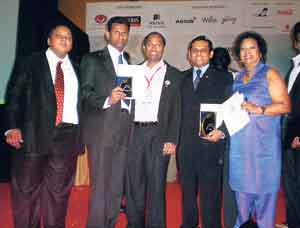 Photograph shows (L-R) Finalist of the humorous speech contest Toastmaster Sudath Fernando, second runner up of the evaluation contest Toastmaster Alroy Mascrenghe, Division A Governor Toastmaster Kapila Bandara, winner of the evolution contest Toastmaster Bhathiya Hetiarachchi and Finalist of the humorous speech contest Toastmaster Sonia Vitarana
The highlight of the conference was the finals which took place on the third and the last day of the conference, packed to full capacity in the main ballroom of The Retreat. There were 6 finalists each in the humorous speech contest and evaluation contest. Sri Lanka was fortunate to have two winners in the evaluation contest namely Toastmaster Bhathiya Hettiarachchi who came first and Toastmaster Alroy Mascrenghe who came third.
Among the high profile attendees from India and Sri Lanka were District 82 - Treasurer DTM Arunasalam Balraj, Lt. Governor Education and Training - District 82 (S) DTM M Z Saleem and council members from various divisions and area governors from all the 14 toastmasters divisions in India and Sri Lanka.
Toastmasters is a non-profit organization dedicated towards helping individuals hone their communication and leadership skills. There are over 260,000 members in over 113 countries who have benefited from the Toastmasters' programme. India and Sri Lanka together form Toastmasters District 82. Out of the 14 Divisions that fall under the purview of District 82, Divisions A, H and J are based in Sri Lanka. The Toastmasters movement has achieved unprecedented growth in Sri Lanka during the last few years bringing the total number of Toastmasters' clubs in the country to 55 by the end of September 2010.
Photograph shows (L-R) Finalist of the humorous speech contest Toastmaster Sudath Fernando, second runner up of the evaluation contest Toastmaster Alroy Mascrenghe, Division A Governor Toastmaster Kapila Bandara, winner of the evolution contest Toastmaster Bhathiya Hetiarachchi and Finalist of the humorous speech contest Toastmaster Sonia Vitarana