The Asia Pacific Institute of Information Technology (APIIT) - Sri Lanka has announced the commencement of registration of students for the February 2011 intake. The academic activities for this intake have been scheduled for commencement in February 2011 after one-week orientation programme. Another batch of promising students will begin a unique journey towards acquiring a prestigious internal British Degree awarded by Staffordshire University, UK. Students will go through a rich educational experience highlighting the fact that, in education, the journey is as important as the destination.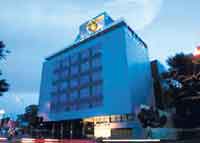 APIIT's main goal is to contribute to expansion of higher education opportunities in the country while promoting the quality and standards of higher education and its relevance to the Industry and Commerce. In this task, APIIT works closely with all its stakeholders, particularly APIIT students, their prospective employers and the international partners. APIIT - Sri Lanka is geared to undertaking this noble task of producing true professionals for the country and contributing to socio-economic development. It has excellent facilities for teaching/ learning and a dedicated and competent academic and administration staff. Moreover, APIIT is backed by international partners who are committed to the quality of education.
APIIT - Sri Lanka, with 10 degree programmes, over 1000 students in enrolment, and a current annual intake of 500 students, is the leading private higher educational institute in the country. It is also renowned for maintaining high standards. All academic programmes are conducted to British standards and the degrees are awarded by Staffordshire University in UK.
To prepare students for today's competitive world, APIIT - Sri Lanka provides a well rounded education. Quality education is necessarily student centred; there cannot be effective learning without active student involvement. Students have to be actively engaged in gaining maximum benefits from the education opportunities created in the classroom as well as outside the classroom. Going a step beyond, APIIT encourages students to collaborate with staff to create educational opportunities, particularly in the area of soft skills development.
APIIT students are encouraged and provided with facilities to take part in many extra-curricular activities. These include sports and recreational activities as well as community projects. These engagements impart transferable skills such as team working and negotiation skills, analytical and problem solving skills, and organising and presentation skills, and help develop students' overall personality. Such experiences and abilities, together with the subject specific knowledge and skills acquired through the study programmes, make APIIT students highly capable of contributing to organisational development and socio-economic advancement of the country. This is the APIIT edge in securing employment and career advancement.
Affiliation to 21 reputable universities in UK and Australia and close interaction with APIIT campuses in the Asia Pacific Region help APIIT keep abreast with international trends in higher education. These international relations ensure that APIIT programmes as well as its teaching/ learning methods are informed by the latest developments. It also uses the latest technological advances to support its teaching as well as management processes.
The February 2011 intake will enrol students for Computing/ IT and Business degree programmes, while the January 2011 intake will enrol students for the Law degree. Registrations will close on reaching the target of 200 students. APIIT - Sri Lanka wishes to advise prospective students to register early and reserve their places as it follows a policy of enrolling students on 'first come, first served' basis.
We all know that Sri Lankans are born with brains. All our students ask for is to provide them with quality educational opportunities. APIIT - Sri Lanka, as a conscientious higher educational institute, is proud to be in a position to guide the young generation towards a successful future through higher education. Let the journey begin at APIIT.
Students and parents are invited to visit the state- of- the- art APIIT City Campus at 388, Union Place, Colombo 2 to find out more about APIIT study programmes and experience the APIIT advantage. The APIIT City Campus is open on weekdays from 8.30am to 5.00pm and on Saturdays from 8.30am to 1.00 pm. Information may also be obtained over the phone (2675060) from Erandi, Ruzlie or Yoga, or via info@apiit.lk.