The University of Nottingham Malaysia Campus opened in September 2000 to become the first campus of a British University in Malaysia and one of the first anywhere in the world - earning the distinction of the Queen's Award for Enterprise 2001 and the Queen's Award for Industry (International Trade) 2006.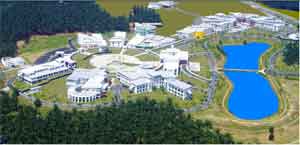 The High Achievers Scholarship: The High Achievers Scholarship is an automatic scholarship for Foundation and Undergraduate programmes of study. Students who meet the criteria will automatically be awarded the scholarship, whereby they will only have to pay 75% of their tuition fees. Students with O/L or A/L can apply.
Congratulations to Durga Venkatnarayanan for being selected to receive the University of Nottingham Malaysia Campus High Achievers Scholarship: "I selected University of Nottingham (Malaysia Campus) due to its high ranking and brand recognition by employers globally. In addition to the campus in Malaysia, the university has a presence in UK and China. I hope to take advantage of the inter-campus Exchange Programme which will permit me to study in all three campuses and experience an international education without incurring additional tuition fees. I would like to take this opportunity to thank my parents and teachers for making my aspirations come true."
The University of Nottingham (Malaysian Campus) lives up to an Engineering student's expectations: Dhinuk explained... In the Engineering faculty we have got lecturers from UK, China, and Malaysia. There are a few other nationalities as well e.g.: my personal tutor is from Israel. They are all highly qualified individuals holding nothing less than a PhD. In addition, there are assistant lectures who come during tutorial classes and these lectures are current PhD students. Every student regardless of the department is assigned to a personal tutor. The student has to meet his/her tutor at least once a week to discuss their academic progress and any other difficulty they come across/face. These tutors will remain as your personal tutor for the entire 3 years.
There are seminars conducted frequently to make student aware of the available careers and how to prepare them for it. For example; seminars on how interviews will be conducted and the type of questions you could expect, how to write a good CV, etc. There is a careers department where you can drop in and discuss with an official.
This university is like home away from home, built on a location surrounded by lush greenery. It's the best place to be… if you want a balanced life - we have our very own Sri Lankan society! Almost every week there will be some sort of event organized by the societies for entertainment.
To find out more about the scholarship and University contact VIEC on 011 2581 428.