Saint John's Preparatory School is a Catholic Benedictine, co-educational, day and boarding college-preparatory school for students in Grades 6-12, with boarding options beginning in the 9th grade. We welcome postgraduate students to study for a transition year after completing High School, as well. 320 students attended Saint John's Prep in 2009-10 from 18 different countries. We welcome students from all faith backgrounds, and we value and celebrate diversity. 70% of our students are day students from the St. Cloud, Minnesota area with 5% coming from other parts of the U.S., and 25% from countries other than the U.S.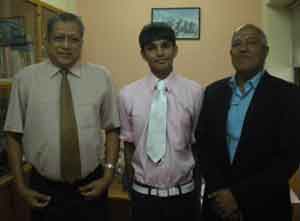 Saint John's Prep is located within the 2,700 acres of woods and lakes of St. John's University's campus in central Minnesota. Our school has recently been named an International Baccalaureate Candidate School, which means that the incoming 9th grade class will be the first class to participate in the IB diploma programme. Course offerings include Advanced Placement (AP) courses in the sciences, world languages, English, and social studies, in addition to the college courses at the College of Saint Benedict/St. John's University-such as Calculus 1 & 2, Physics, Psychology and more. World language offerings include German, Chinese and Spanish, and we emphasize the arts with courses in drama, vocal and instrumental music, drawing, photography, ceramics, painting and media arts.
Our graduates matriculate into U.S. colleges and universities at a rate of over 98% every year, including such prestigious institutions as Harvard University, Columbia University, and Dartmouth College. With a dedicated staff of college counsellors, your child will get the individualized attention they deserve as they search for the college that best fits their interests and skills.
Dularge Perera of Wycherley International becomes Scholarships for USA's (www.scholarshipsforusa.com) first student to St.John's Preparatary School in Central Minnesota well known for its academic excellence and college preparation. Its students numbering 259 are from around the world and across the US. Mr.Kingsley Jayasinghe Principal Wycherley and Padmasena Dissanayake Director Scholarships for USA too joined to congratulate Dularge.