The 2011 budget proposals consistently portrayed the government's strategy of facilitating economic development by encouraging private sector investment. This was the overall consensus reached by the eminent speakers and panelists at the CIMA evening discussion on budget highlights 2011 held recently at the Hilton Residencies, Colombo.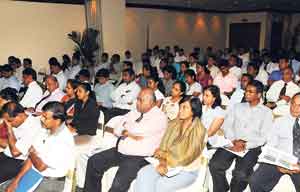 Sutheash Balasubramanium, Chairman of the CIMA Sri Lanka board in his words of welcome clearly stated CIMA's commitment towards grooming finance professionals to aid the country's economic growth.
The keynote delivered by Dhammika Gunatilleke, Tax Advisor to the Ministry of Finance shared her insights on private sector incentives such as removing nuisance taxes and the steps taken towards building a 'knowledge economy' such as the software development industry related investments being VAT/ NBT exempted.
Lakmali Nanayakkara, Partner of Ernst and Young, enlightened the audience on the revenue proposals of the 2011 budget. Incentives granted to the financial services and banking sector include VAT reduction from 20% to 12% and the overall effective tax rates reduction. The abolishment of debit taxes, establishing a single tax on sales in the telecom industry and the reduction of corporate tax from 35% to 28% were some of the other incentives granted to the private sector.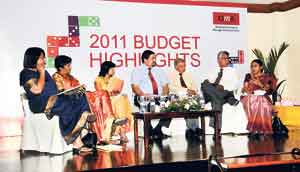 Trevine Jayasekera, Group Finance Director of Brandix Lanka Ltd, speaking on the business impact of 2011 budget highlights, pointed out key opportunities for exporters such as value added/branded products, software development and BPO's.
Dr Anila Dias Bandaranaike, former Assistant Governer of the Central Bank of Sri Lanka, speaking on the macro economic impact of the 2011 budget proposals, commended the budget as being a 'forward looking budget' and appreciated the consistent reduction in inflation, stability of the exchange rate and increasing steps taken to enhance private sector credit.
An insightful panel discussion succeeded Dr Bandaranaike's deliberation, where experts in key industries joined the eminent speakers. Ranjith Samaranayake, Executive Director/Group Financial Officer of Sampath Bank spoke on the key benefits offered to the financial/banking sector where timely initiatives such as reduction of minimum dividends payable from 25% to 10%and steps taken by the government to increase capital adequacy of banks were mentioned.
Nilanthi Sivapragasam , Chief Financial Officer of Aitken Spence PLC, commented that the budget speech was development oriented, focused on broadening the tax base and eliminating nuisance taxes. She also commented that the reduction in taxes in the financial sector should result in improved borrowing rates for private sector firms.
Manil Jayasinghe, Chairman of the CIMA Sri Lanka Technical Committee who moderated the panel discussion drew opinions of the industry experts on the specific impact to the banking and financial services sector and the hospitality sector. He also facilitated audience involvement in the discussion where sentiments expressed highlighted the need for the private sector to exploit opportunities in the Northern and Eastern parts of the island and whether the government will maintain its stance on the favorable revenue proposals targeting economic growth.