The game of chess was for a long time an activity indulged in only by those from schools based in Colombo and Kandy. However renowned player and instructor, Suneetha Wijesuriya, says that that landscape is generally changing and the game is gradually beginning to spread its wings over provincial boundaries.
Suneetha's 'Anatoly Karpov Chess Club', which this year celebrated its twelfth anniversary of chiseling raw chess talent, has in recent years seen players from regions such as Trincomalee, Galle and Matara joining.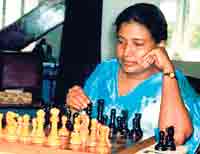 Suneetha playing against some of her students
"Interest for the game is increasing, so the game is slowly spreading throughout the country. A big reason for this is that there are now more tournaments for children to take part in, and a lot more age groups for them to participate in," she reveals.
Suneetha says that the country is also beginning to host international tournaments in addition to the local events. The most recent of these was the Asian School Chess Championship where Nalanda College's Udith Jayasundara won the Under 15 title while Natasha Sanali of Dharmashoka College Ambalangoda won the girl's Under 15 title.
Suneetha is one of the finest chess players Sri Lanka has produced and has blossomed into an instructor of equal prominence. She reigned as the country's national champion throughout the 80s until 1997 when she decided it was time to switch roles to teaching.
She explains that chess is immensely beneficial for youngsters, gifting them with mental discipline and patience. "I see the change in my students after they start playing. When they first join they are not focused but once they play for about three months, they begin to concentrate more and are able to think two steps ahead." -