The University of Colombo School of Computing (UCSC) has won three awards and two special merit certificates at e-Swabhimani 2010 Competition which recognized Excellence in Digital Content Creation. This event was organized by the Information and Communication Technology Agency of Sri Lanka (ICTA), the apex body responsible of implementing the e-Sri Lanka Development Initiative.
The awards presentation ceremony of e-Swabhimani 2010 competition was held at Cinnamon Grand, Colombo with the participation of Economic Development Minister Basil Rajapaksa and the Secretary to the President Lalith Weerathunga recently. There were 163 entries covering participation from all parts of the country. They were classified under 11 categories and awards were presented to the winning entries.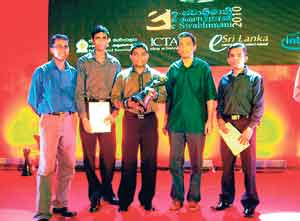 UCSC, Language Technology Research Laboratory Head Dr Ruwan Weerasinghe with the winners from the 'Subasa' and 'Shikshaka' project.
The UCSC won these awards for the "Theekshana" software for the Birth, Marriage and Death Certificated Digitization Project under the e-Government 2010 category, the Language Technology Research Laboratory software for the 'Subasa' project (www.subasa.lk) that is providing internet services for Sinhala language under the e-Inclusion category and the 'Niva-rana' project (www.nivarana.lk) developed as a student project under the e-Health category.
UCSC was also awarded a Certificate of Special Merit for the 'Shikshaka' project of the Language Technology Research Laboratory and a Certificate of Appreciation for the VLE Open Learning project of the e-Learning Centre. Both awards were under the e-Learning and Education category.
Commenting on winning these awards, the UCSC Director Professor Gihan Wikramanayake said that the UCSC won awards at three national and international level competitions this year. Speaking further he said that the UCSC was able to win a Gold award, a Silver award, two Bronze awards and two Merit awards at the NBQSA-2010 competition, a competition to reward the excellence in computer software, and a Merit award at the APICTA-2010 International Competition organized by the Asia Pacific Information Communication Technology Alliances (APICTA).