Drawn to the game when he was only six years of age, Shehan Gomez has moved from strength to strength throughout his career, promptly dismissing all his challengers and accumulating a raft of titles in the process. Now, still aged just 18, he stands on the cusp of plunging into the national ranks as a force to be reckoned with.
Shehan's profound passion for the game was ignited mainly because of his grandfather's, Cedric de Silva, involvement with the sport in Sri Lanka, where he functioned as the Secretary of the Sri Lanka Tennis Association (SLTA). Then after two years of learning the basics of the game privately, Shehan joined his school (Royal College) team, where his game shot to a new level.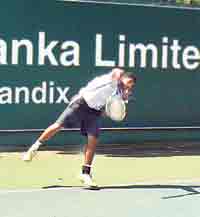 Shehan Gomez
Progressing through each age group, he made up part of very strong Royal tennis squads that captured the under 11 and under 13 Public Schools Tennis titles. Before long his increasing skill had earned him a reputation as one of the school's most prominent junior sportsman, and he was duly rewarded for his contribution when he won the Maalin Dias Sports Scholarship.
At the same time he was also making waves away from his school, when he competed in some of the local junior tournaments such as the SSC Open. During one of these tournaments he registered what he labels as a career defining victory over Michael Siyaguna.
Siyaguna was the top ranked under 18 player at the time and widely expected to dispose of Shehan without much difficulty. However Shehan, then 16, had other plans, and produced some tenacious tennis to emerge victorious.
He was also forming a formidable partnership with Guyanga Weerasekera, and the pair dominantly annexed championships in both the SSC Open under 18 doubles championships as well as the under 18 segment of the Junior Nationals.
Once again his achievements were garnering more recognition back in Royal and in 2009 Shehan earned the honour of receiving the school's highest award for a sportsman, the Royal Crown.
By this time he had also seen competition abroad and was regularly on tennis teams that represented Sri Lanka in Junior Davis Cup action. However he concedes that the skill level of foreign opponents he encountered was much higher than that of the locals.
"The main difference is they take their tennis a lot more seriously than us. They are able to focus fully on the game whereas in Sri Lanka we have to give a greater priority to our studies," he reveals.
Nevertheless Shehan is still willing to squeeze in as much hard work as possible. He spends roughly five to six days a week working on fine tuning his game during two hour daily sessions.
"I don't believe in spending several hours practicing on the courts doing the same thing. For me two hours is an ample amount of time because it not about quantity for me but quality," Shehan divulges.
Currently Shehan ranks as one of the brightest emerging talents on the tennis circuit, in a few years perhaps his role may shift towards one of even great significance.
"My dream is to make the Davis Cup team," he says with unrestrained enthusiasm. Until then Shehan plans to keep on playing and improving in the game he knows will be a large part of his life for several years to come.