International Institute of Health Sciences (IIHS), the country's premier healthcare training organization has joined hands with the State University of New York (SUNY Canton) for the delivery of the Associate Degree in Physiotherapy, a qualification that will enable successful candidates to step into a profession which has a great potential, as physiotherapy has become an essential component in healthcare services today. Speaking about this trend with his experience of over 30 years as a Medical Consultant working in the USA, Dr. Nihal De Silva says "The demand for physiotherapy services increased sharply over the last few years.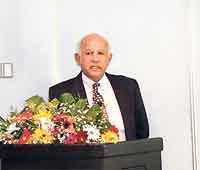 Dr.Nihal De Silva-Dean IIHS- Former Associate Prof: at Stanford University USA. MD, MPH, ACOG
This increase is largely due to the effects of the ageing population, shorter stays in health institutions, the shift to ambulatory care and an improvement in the survival rate of accident victims and newborns. Indirectly, the rise in life expectancy rates makes interventions in this field even more relevant, since they improve the quality of life of elderly people for an increasingly larger proportion of their life. In addition to improving the quality of life of patients, physical rehabilitation services make it possible to keep people suffering from physical problems at home much longer, thereby significantly reducing health care costs."
Profile of a Physiotherapist - What jobs and benefits
Physiotherapists are also known as physical therapists where they opt for a technical job or a managerial job or a lecturing post, says Dr Kithsiri Edirisinghe, a Consultant Medical Administrator and an expert in the international Healthcare professional arena. He further states Physiotherapists contribute in a variety of areas such as industrial and automobile accidents, sports injuries, physical disabilities, home care, geriatrics, pediatrics, and preventative care.
Physiotherapy is a field that holds immense job potential in this age of high-stress lifestyles that often result in physical disorders. With the life of the common man becoming more and more hectic, there is little time to maintain physical fitness. There is thus a growing incidence of ailments which physiotherapists are called upon to attend.
Students aspiring to take up this field must keep in mind that this is a science that seeks to cure a patient without medicines and they almost always see the positive side of treatment where in rehabilitation they experience the patients recovery every day. It is indeed a very satisfactory experience and this is why more and more young people are attracted to this profession. Apart from this, qualified Physiotherapists are entitled to very attractive salaries and perks. On average an international Physiotherapist would earn an annual salary of Rupees 6.5 Million and an Assistant physiotherapist would earn approximately Rupees 5 Million per annum.
What are the academic pathways available?
"It is indeed difficult to get into an international Physical Therapy programme due to the high demand for entry and also the cost of academic studies says Ms. Nishani Kulatunga, Chief Operating Officer of IIHS. IIHS is very proud to announce that amidst these demanding circumstances we have initiated the delivery of an American Physical therapy programme in Sri Lanka. This programme leads to an Associate Degree in Physiotherapy where the student would study 2 years in Sri Lanka and the final year in USA at the State University of New York at Canton. This would not only improve the local students' accessibility to American education but will dramatically reduce the cost of education. Upon completion of the Associate Degree a student can find employment as a Physiotherapy professional and academically one can move on to PhD level. Ms. Kulatunga expressed her gratitude to Priyanthi and Padmesena Dissanayake of Scholarships for USA (Pvt) Ltd, and to Fiacco Marela, Director International Affairs of SUNY Canton, USA for their efforts in initiating and coordinating the affiliation between IIHS and SUNY Canton USA.
The State University of New York at Canton is a public, coeducational, residential college located on a spacious campus along the banks of the Grasse River. Its northern location places SUNY Canton close to the Adirondack Mountains, the St. Lawrence River, and major cities including Ottawa and Montreal. Approximately 3000 students attend SUNY Canton, taking advantage of its vibrant community of people learning and growing together. The College has a continuing record of excellence in providing a career-driven educational experience.
Milan Perera from Maris Stella College, following the Physiotherapy programme at IIHS says, "I've always wanted to be an international Physiotherapist, so having an international qualification will enable me to fulfil my dream. Now I am following a Diploma in Physiotherapy. Once I complete my Diploma in Physiotherapy at IIHS, I am hoping to go to SUNY Canton University USA for my Associate Degree in Physiotherapy. I am a big sports fan and I want to join an international sports team as a Physiotherapist. I am looking forward to an exciting career with excellent work conditions and a high quality lifestyle".
The International Institute of Health Sciences (IIHS) has embarked on the ambitious goal of developing the quality of healthcare education in Sri Lanka. Other main healthcare programmes offered at IIHS include the TAFE Diploma of Nursing where students study 18 months in Sri Lanka and 6 months in Australia, BSc in Nursing- Edith Cowan University-Australia, where students can follow 2 years in Sri Lanka and 2 years in Australia, BSc in International Nursing - University of Hertfordshire where students study 2 years in Sri Lanka and 2 years in UK with a guaranteed work placement, BSc in Nursing- Open University of Malaysia where the entire programme can be completed in Sri Lanka, and a Master's of Health Services Management awarded by Edith Cowan University Australia.
New intake for January is now on
IIHS is located at number 704, Negombo Road, Welisara. Web: www.iihsciences.com.
For inquiries and registration contact Thiwanka on 0774 14 23 98, Nishani on 0773 11 43 91, Amila on 0773 11 43 81, or Hot Line-011 465 11 44 .