NDB Bank, to coincide with World Thrift Month that falls in October, this week announced a comprehensive communication campaign with a view to enlightening those who consider saving, but feel that it is impossible given their day to day expenses.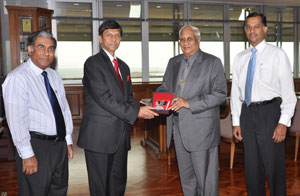 Seen here is the first copy of this publication being handed over to Ajith Nivard Cabraal, Governor of the Central Bank of Sri Lanka recently by the Bank Chairman P. M. Nagahawatte. Also in the picture are Russell De Mel, CEO NDB Bank (left) and Indrajit Wickramasinghe, COO, NDB Bank.
Thee bank said that it would be extending the initiative to numerous activities that will be conducted through out its island-wide branch network, from events at public locations such as train stations to schools; thereby creating awareness of the importance of saving. It is publishing a handy 'Saving Booklet' that offers useful tips on how to optimize the benefits and minimize waste of common everyday essentials via the discounting of continuous unconscious wastage of national resources.
From electricity and water, to telephone bills and fuel, this pocket-sized booklet contains useful tips that can be practiced on a day to day basis. In addition to healthy habits on conserving utilities, the booklet also provides valuable insights on saving to be made from efficiencies in time management and how simple steps in managing cash and the environment can also lead to higher levels of disposable income and thus, increased saving.