The Multi Finance Company plans to list on the Colombo Stock Exchange by next year, the company said at the weekend. "We expect to have Multi Finance Company listed on the Colombo Stock Exchange by next year. We will also introduce different kinds of investments and lending instruments in the future with varying options, many of which would be new to the finance sector," said the Executive Director and CEO of Multi Finance, A.H.M. Riyaz.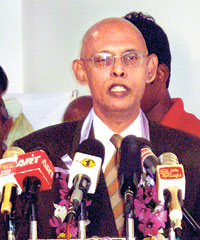 Dr. Asoka Jinadasa
Multi Finance is a Central Bank regulated finance company almost totally owned by Entrust Limited, which also owns Entrust Securities Limited, a primary dealer for government securities. The finance company headquartered in Kandy, has branches in Colomb, Gampaha, Kurunegala and Matara.
Dr. Asoka Jinadasa, Chairman of Multi Finance Company said that Multi Finance offered higher interest rates for fixed deposits in Septmebr, to increase savings. "For example, our national savings ratio is far too low.
To tempt people to save more, we are offering a higher interest rate for fixed deposits made during the month of September. This special offer would provide us the opportunity to educate and inculcate the saving habit among the general public. Also, to guard against future shocks, we will continue to ensure that our assets exceed our liabilities by a very safe margin," said Dr. Jinadasa.
This week the finance company announced that it has moved its head office to a new location in Hill Street, Kandy, to mark its 36th anniversary. "To celebrate its 36th anniversary, Multi Finance Company moved its head office today to a prestigious location in Hill Street, Kandy," said the company.
The finance company's clientele includes businesses, entrepreneurs, professionals and individuals. Picture shows Dr Asoka Jinadasa speaking at the opening.