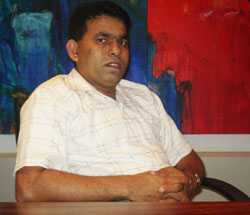 Lalith Sumanasiri
Lalith Sumanasiri, Joint -Managing Director of Phoenix Ogilvy Media is spending a stint at Ogilvy Global headquarters in New York working with specialists in channel and media planning, Digital media and effective campaign measurement, the local agency said.
He will work and train in New York especially focusing on developing a compressive social media strategy with emphasis on the usage of Blogs, Twitter and Facebook, its integration to main stream campaigns, adaptation to new environments and reach optimisation.
"Lalith will be exposed to comprehensive training under Ben Richard the Worldwide Head of Strategy Integration and the NEO team at Ogilvy and Mather, New York," the statement said.