Ranil De Silva, Managing Director, Leo Burnett Solution Inc, who began his advertising career at the age of 15 and grew tall in the industry with 30 years advertising work experience, this month won the Global Medal of Merit from the International Advertising Association (IAA), its highest accolade for outstanding service to the advertising industry at IAA World Congress I Moscow.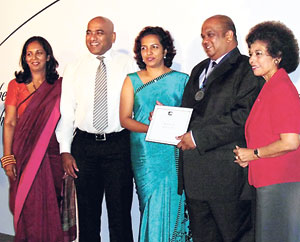 Ranil de Silva with industry referees
It was accepted by Ms Lilamani Dias Benson, CEO, Lowe LDB on behalf of Mr De Silva. While briefing the media on the award in Colombo, this week Mr De Silva said that he would never forget the accolade as it was the first time he was recognized for the contribution he has made to the industry and said "In fact it is a first for Sri Lanka and more importantly for advertising and my profession".
He said that his belief is that he has done the very best for his profession and said that though they compete with one another, the industry needed torch bearers to take it forward. If they don't drive and develop the advertising industry no one else would do it for them. So, he said he gave the best as the success of the industry fuels Leo Burnett and also enables him to excel.
Looking at the representatives of the advertising fraternity and the media personnel present at the occasion, Mr De Silva said "Today is even more special because of the people who are here to congratulate me on this success and to share the glory of this Global Medal of Merit which has been bestowed upon me".
The number of Merit Medals awarded are limited to a maximum of five per occasion and this year Mr De Silva joined the ranks of renowned luminaries in the industry such as Khamis Al Muqla, President, Gulf Marcom; Diane Slade, Director, Edith Cowan University Australia and Takayuki Shimizu, Executive Director, Dentswu Inc Japan.
At this function, Ms Lilamani Dias Benson, Thayalan Bartlet, CEO, JWT and Vice President IAA and Ms Renuka Marshall, President, IAA Sri Lanka Chapter spoke of the contributions made by Mr De Silva to the advertising industry, praised, congratulated and apreciated his winning this rare award.