German experts are exploring the possibility of setting up reptile farms in Sri Lanka to export reptiles to the European Union (EU) market, a senior official of the Export Development Board (EDB) said.
He said Sri Lanka will increase its ornamental fish share in international markets and would now enter into non-venomous reptile breeding for the EU market with German assistance, A 14-member German delegation including ornamental fish and reptile experts headed by the President of the German Pet Association Klaus Oechsner visited the island this week and expressed willingness to extend their expertise and technical know-how to expand Sri Lanka's ornamental fish breading farms and to set up non venomous reptile farms in rural areas, while exploring opportunities of breeding reptiles and exporting them.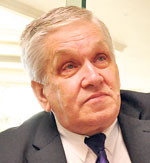 Klaus Oechsner
In an interview with the Business Times, Mr Oechsner said that this is the first time that a German delegation of experts in ornamental fish and reptiles had visited the island in the past 50 years. He noted that there is a great demand for ornamental fish and reptiles in Germany and other European countries and Sri Lanka has a vast potential in exploring this export market.
German experts are ready to set up joint ventures with Sri Lankans and to transfer their knowledge in breeding quality fish, he added. Germany is the third largest ornamental fish exporter in the world.
Expert and reptiles' breeder Jurgen Ullmann said that reptiles often do not adapt well enough to captivity to feel comfortable enough to mate. Thus successful breeding indicates a high standard of skill in reptile husbandry. For all reptiles, whether lizard, snake or turtle, successful breeding relies largely on ambient temperature and humidity as well as clear seasonal and/or day-night cycles. Under this set up Sri Lanka is an ideal location for reptile breeding, he added.
Association of Live Tropical Fish Exporters of Sri Lanka, President Sathyendra Wijayapura said there are 50,000 stakeholders including breeders, suppliers and collectors and the ornamental fish industry could flourish, as the restriction to use Northern and Eastern waters has now been lifted.