SMB Leasing PLC (SMBL) on Tuesday announced plans to issue 841,455,314 new ordinary voting and ordinary non-voting shares to shareholders in a new equity capital infusion of Rs. 581 million that will improve the liquidity position of the company and fund working capital requirements.
The company proposes to issue more than 381 million ordinary voting shares at a ratio of six shares for every seven shares held at an issue price of 80 cents, and 460 million ordinary non-voting shares at a ratio of Twenty Three shares for every five held at 60 cents per share.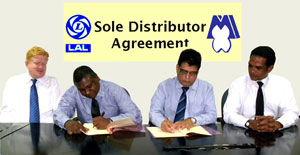 Picture shows (from left) SMBL non-executive Deputy Chairman Rohan Senanayake, Executive Director & CEO Surath Peiris, Lanka Ashok Leyland CEO Umesh Gautam and SMBL Chief Operating Officer Sumedha Fernando during the signing of the distributor agreement.
The conversion of these warrants to shares by December 2011 is expected to result in an additional equity inflow of Rs 749.5 million. In the event of an under-subscription of the issue of non-voting shares, SMBL has entered in to an arrangement with Seylan Bank PLC to issue ordinary non-voting shares and the corresponding number of warrants in lieu of outstanding debt. "We expect the rights issue to generate a lot of interest from shareholders because it represents an opportunity to participate in the growth and future profits of SMB Leasing, following its restructuring and consolidation," the company's CEO Surath Peiris said in a statement.
He said the rights issue of ordinary non-voting shares of the company would enable the company to convert the outstanding debt owed to Seylan Bank PLC to equity, improve its core capital adequacy requirements and fund new growth opportunities arising fro the post-conflict resurgence of the economy.
One new area of revenue and growth for SMBL would be the company's appointment as a sole distributor and transport solutions provider for the northern and eastern provinces by Lanka Ashok Leyland PLC.
A Memorandum of Understanding ratified by the two companies last week paves the way for SMBL to act as the sole distributor for LAL vehicles, provide after-sales service, spare parts support and warranty obligations in addition to leasing, and financing. About 600 of 1000 Lanka Ashok Leyland buses to be supplied via a reputed leasing company over the next six months are intended to serve the North and the East.