Some 250,000 computers are dumped every year in Sri Lanka, according to Nishan Silva, a Director of IT services provider Digital Dynamics, a local partner of India's US$ 250 million revenue IT services company Zensar Technologies.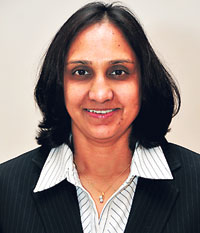 Prameela Kalive
He noted that shared services offerings could address the issue of electronic waste because of its intrinsic green IT focus, an alternative to companies and governments commissioning expensive Enterprise-wide Resource Planning (ERP) platforms which require a lot of hardware. Added advantages of this technology are that it is cheaper, being pay per use, while at the same time it does not require in-house IT personnel.
Meanwhile, according to Prameela Kalive, Zensar's Vice President responsible for SAARC, her company offers as much as 10% cost savings to clients, services which additionally were green IT based and so encompassed better resource allocation while at the same time reducing a client's carbon footprint. These included methods such as virtualisation to make better use of existing capabilities, green data centres, optimising heat generating technologies, bio gas, rain water harvesting, car pooling, etc. as well as an online carbon calculator, all of which had already been integrated into Zensar's operations in India. Expertise that had also subsequently been passed along to clients.
Ms. Kalive also noted the demand for shared services was increasing in the small and medium enterprise sector which, within the next two years, would be responsible for 10% of Zensar's revenues. Adding that another area that could benefit from shared services was Sri Lanka's public sector, she noted the government had yet to embrace IT in "a big way" in comparison to India where virtually every government department had been touched by IT, as witnessed by a wide variety of citizen services being made available though IT channels, from courts to civil service, etc.