In contrast to many other long haul destinations, including islands in the Indian and Pacific Oceans, other Asian countries and even Australasia, which are its main competitors, Sri Lanka offers good value, according to veteran international hotelier Raymond Bickson, the Managing Director of Indian Hotel Company, parent of Taj Hotels Resorts and Palaces.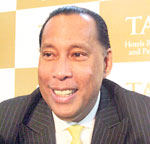 Raymond Bickson
Indicating this value for money was an advantage for the country when competing with more mature markets, he suggested that it was a positive that Sri Lanka had managed to not over-price itself and so offered something for any budget. Meanwhile, visitors to the Maldives, for example, were hard pressed to find a place to stay for under $500. Mr. Bickson made these comments to the Business Times during a visit last week to Sri Lanka that entailed the local launch of the group's new brand architecture, which now spans the 110 properties of this $300 million turnover hotel group, which also has 47 projects currently in development worth $3 billion. Sri Lanka is just the most recent stop in Mr. Bickson's itinerary which, in 2011, will include opening 13 hotels, one almost every three weeks, including Taj's first property in China.
During his visit to Sri Lanka, hotel officials also revealed that locally managed properties, comprising the Taj Samudra in Colombo, the Taj Airport Gardens in Seeduwa and the Taj Exotica in Bentota, would all be in line for significant investments in keeping with Taj's local re-branding. Already earmarked, $35 million for a 2011 renovation of the 300-room Taj Samudra and US$ 5 million for a full revamp of Taj's 160-room Bentota property, already re-branded as Vivanta by Taj Bentota, that will eventually entail completely new interiors and even an added restaurant. Additionally, the Taj-managed, Hirdaramani Group-owned 130-room Taj Airport Gardens will undergo an upgrade of 40 existing rooms, while a new 100-room wing will also be added within the next two years. This property will 'migrate' to Taj's "The Gateway Hotel" brand in January 2011.
Meanwhile, according to Mr. Bickson, the Sri Lankan government was making the right moves to facilitate tourism, including a positive advertising campaign and opening the doors to the right investors. He also commended a government plan to extend the existing single runway in addition to constructing a second runway at Sri Lanka's only international airport at Katunayake, as well as eventually commissioning two more airports. At the same time, while reiterating his group's interest in opportunities in the island's Eastern and Western coastal regions, he also suggested that cultural, wild life, religious and medical tourism were also possible future areas of interest for Taj in Sri Lanka. He also floated the possibility of opening up a locally based hotel school in the next two years; a practice that Taj employed when going into new markets where inadequate staff supplies could be an issue.