The Friday Forum, an informal gathering of public spirited persons committed to contributing to the future development of Sri Lanka, has emphasised that the path to national unity and reconciliation lies in a process of sustained policies and sincere efforts for which leadership must be given by the State.
Reconciliation cannot be achieved in a short period or through a few steps. Making a presentation before the Lessons Learnt & Reconciliation Commission in Colombo on Friday, Mahen Dayananda, former Chairman, Ceylon Chamber of Commerce, on behalf of the Forum said that the priority need is for the President, the government and all political parties to immediately move on a political solution building on the consensus reached by all parties on the recognition of minorities, power-sharing at the centre, devolution of power to the regions, and the empowerment of all the communities. Such proposals will give great confidence to the minorities and be a major step towards political reconciliation, he added.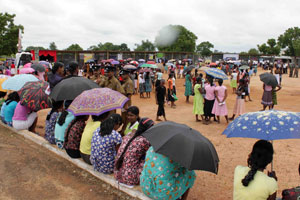 In a bid to generate employment for former female LTTE cadres a job fair was conducted recently in Vavuniya .
The government move to adopt as an Emergency Bill the 18th Amendment to the Constitution to further bolster powers of an Executive President by, among other things, removing term limits and the significant checks inherent in the 17th Amendment was very unfortunate, he said. The Friday Forum publicly voiced its serious objections to the content of the 18th Amendment and the manner in which it was adopted without providing adequate opportunity for public debate. Such moves, among other things, can only deepen suspicions entertained by the minorities and alienate them further from structures of governance, he added.
He noted that piecemeal tinkering with the existing Constitution should be avoided at any cost. Mr. Dayananda emphasized that the ethnic conflict/divide was brought about by a multitude of reasons --grievances based on violation of language rights, access to public employment, education and indeed a fair share of political power. Peaceful protests were met by violence, which in turn led to retaliation, thus giving birth to an ever intensifying spiral of violence in which original grievances often got overshadowed. The escalation of the ethnic conflict has given rise to demands by the Muslims and to increased apprehensions by Tamils of recent Indian origin as well.
He noted that effective reconciliation among the various communities can be achieved only if there is recognition of the importance of different identities and the need to respect and protect those identities. A cohesive national identity could be brought only through recognition and respect of diversity.
Democratic governance is essential to build confidence among minority communities. Confidence building is the key to reconciliation. Governance that flouts basic principles of democracy instills fear and uncertainty. Forging meaningful reconciliation in such a negative environment is an impossible task, he said.
Mr. Dayananda asserted that all segments of society should learn from the painful past and to develop a future vision for national unity and reconciliation. The obligation is primarily on the State to provide a protective umbrella to all its citizens based on the principles of equality and non-discrimination, while recognizing distinct identities, he said.
He pointed out that it is also prudent that there be an official public apology to those fellow citizens who were victimized in the riots of 1983. It may be a bold measure requiring a great degree of political courage, but it will take the divided communities a long way toward reconciliation.
He asserted that meaningful constitutional reform should necessarily put in place a strong legal régime of human rights protection. The government must constructively engage with international human rights mechanisms with the sincere objective of improving human rights protection at home. That is a win-win formula that benefits both the people and the government, he said. To engage with international mechanisms with suspicion and disdain through politics of confrontation is a losing formula that can only result in loss of faith in the administration both among the international community and the peace loving people of Sri Lanka, he said.
The Friday Forum has urged the Lessons Learnt and Reconciliation Commission to make a special effort to give opportunities to women, youth and other such groups from various communities to express their views. The Forum also stressed the need of incorporating the draft bill on human rights devised by the former Ministry of Constitutional Affairs and National Integration, which was submitted to the government in 2009.
Mr Dayananda stressed the importance of accepting that future economic progress has to be built against the background of a strong platform of democracy and decency. Good governance is becoming increasingly important in the current context of connectivity particularly with some of 'our' more important trading partners including the USA, EU and Japan as the recent GSP + episode proved. These three economic giants, in particular, are vitally important in maintaining 'our' current standing as an exporter not only of commodities but also of apparel and some manufactured goods such as ceramics, he said.
In addition, a major part of Sri Lankan tourist arrivals still originate from the UK and numerous other European destinations. It is a sine-qua-non that very many tourists in general seek to visit destinations which offer political stability, protection through the rule of law, freedom of choice and ethical standards of conduct all of which are underpinned by strong principles of democracy.
He said that it is important to maintain a regime of good international relations with the rest of the world. To do so requires the elimination of any negative perceptions with regard to 'our' democratic institutions and principles. Further more he was of the view that the commitment to good governance in a country provides a significant level of comfort to end users/buyers of different commodities.
The Sri Lankan Diaspora too will invest in the country in a sustained manner only if there is progress in the good governance front with a sincere commitment on the part of the government to national reconciliation through a durable political solution to the ethnic issue, he said.
He called upon the government to find ways and means of implementing the official languages policy in an effective manner, particularly at service delivery points such as police stations, post offices, government offices, banks. And to utilize the current education reform process to urgently review school curricula in order to revise lessons that perpetuate ethnic divisions. Steps must be taken to ensure all public universities have integrated student populations with a choice of courses offered in the three language media.
Currently, it does appear that most Tamil speaking undergraduate are confined to the North and East and the Sinhala speaking undergraduates are sent to universities in the South. These psychological delimitations must now decisively end. A policy must be formulated for all national events, publicity programs (e.g. promotion of tourism) etc. to be designed and implemented in a manner that portrays and promotes the identities of all communities on an equal footing.