Dilmah Founder Merrill J. Fernando has been selected by the Sri Lanka Institute of Marketing (SLIM) as their 2010 Brand Icon, with the award presented at the SLIM Brand Excellence Awards 2010 on Friday night.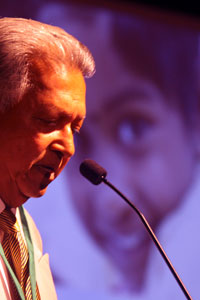 Merrill J. Fernando
Mr Fernando is out of the country and his son, Malik J. Fernando, also a Dilmah director, received the award on his behalf. On learning of the award, Mr Merrill J. Fernando commented, "Quite honestly, the real icon is the wonderful image that Ceylon Tea enjoyed at the time I launched Dilmah, Single Origin Tea.
I merely took advantage of that image, therefore, I share a greater part of this honour with Ceylon Tea and generations of tea planters and workers who developed the industry."
The Dilmah founder is acknowledged in several Asian and African countries as a role model for his pioneering efforts in launching a producer owned tea brand. He is also recognised for the unique philosophy he maintains, of making his business a matter of human service.
The criteria for the Brand Icon Award is that the individual be a Sri Lankan national who has excelled locally and globally, built an international brand and has contributed to the Sri Lankan economy while enhancing the image of the country.
Previous winner of the award have been internationally acclaimed Sri Lankan cricketers Muttiah Muralitharan (2008) and Kumar Sangakkara (2009).